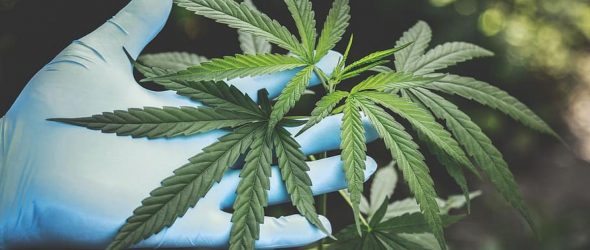 https://cannabisexaminers.com/wp-content/uploads/2020/05/cannabis-freshness-hand-marijuana.jpg
Despite the fact that 2.4 million more Americans filed for unemployment this week and experts are predicting that the overall numbers could reach 30 percent by the end of the year — outpacing the height of the Great Depression — there were positive signs of economic stability coming out of the cannabis industry. According to a report written by economic research experts, RCG Economics and commissioned by the Nevada Dispensary Association, Nevada collected $172 million in excise tax, sales tax, and licensing fees from legal cannabis sales. It was proof positive that the slow death of prohibition has benefited local economies.
In 2019, Nevada cannabis sales totaled $692 million, a 20 percent increase over the previous fiscal year. Using a survey administered through NDA members and contacts, the report estimated that 8200 jobs were created by the industry in Nevada, with an additional 2000 in the ancillary space.
And while the recent coronavirus pandemic has stifled profits for Nevada's cannabis retailers, the industry still has much to celebrate. "Although COVID-19 may result in lower than projected sales and collections, it is helpful to know what the industry is capable of accomplishing and contributing to the state, given the right conditions," said Riana Durrett, executive director of the NDA in a statement.
The news out of Nevada comes on the heels of a recent jobs report put out by the cannabis publication Leafly, which now estimates that across the US, the industry is responsible for employing almost 250,000 Americans as of early 2020. According to the report, that number represents an increase of about 15 percent over the previous year.
Moreover, it's double the number of jobs the industry had in 2017, which is a growth rate of nearly 100 percent — a claim no other sector can make. And these numbers come in what's been considered a rough year for cannabis, following both the EVALI epidemic of 2019 and the ongoing coronavirus pandemic that has decimated the economy.
Yet not everyone is convinced that cannabis is a net positive for the economy. Politicians in Rhode Island, for example, recently argued — without much evidence — that the negatives would outweigh the benefits.
"We shouldn't legalize marijuana just to raise revenue," said Rhode Island House Majority Leader K. Joseph Shekarchi recently, when asked how to fill a $400 million deficit. "We need more input from law enforcement and the business community, particularly the insurance and defense industries."
Anti-legalization groups have made similar arguments, telling governors that they shouldn't turn to cannabis to fix broken economies.
"Last week, CA, CO, WA, OR, and NV sent a letter to Congress asking for $1 trillion in aid to be sent to states as they face a combined deficit of $70 billion," wrote the anti-legalization group Smart Approaches to Marijuana on Twitter. "They all have commercial marijuana markets." 
"Legalizing pot won't fix your budgets," SAM continued.
But for states like Nevada, the proof is in the numbers, so much so that proponents of cannabis legalization are hoping to see more allies in local government come next year. In Las Vegas, medical marijuana activist Michael McAuliffe received an endorsement from Tick Segerblom, one of Nevada's progressive leaders, in the open seat Democratic primary for AD20.
"Assembly District 20 is a guaranteed Democratic win. Our rank and file primary voters should elect the most progressive candidate we can to Carson City, and that's Mike McAuliffe," said Segerblom in a statement. "Las Vegas has a harsh climate where it takes deep roots to survive. As a medical marijuana activist, Mike has spent most of his two-plus decades here helping our friends and neighbors survive cold legislative seasons and raids by over-zealous authorities. Mike has provided a leadership voice for his community over many years. He will be a strong advocate for Bernie Sanders' brand of policies in Nevada, and he hasn't just blown in with the wind."
Image: Michael McAuliffe/ Brand LTD