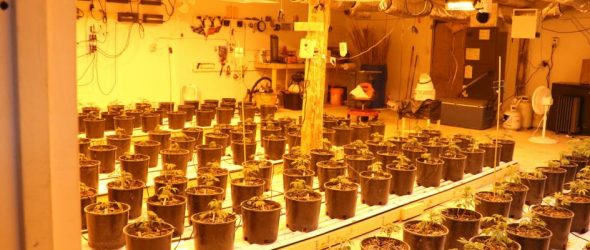 https://cannabisexaminers.com/wp-content/uploads/2020/07/5f064e50bb0bf.image.jpg
DIVIDE — A married couple renting a house in Divide for the past year were arrested Tuesday in a marijuana raid the Teller County Sheriff's Office is calling "the largest single criminal enterprise seizure" that the agency has been involved with.
Javier Morejon, 64, and his wife, Robin Morejon, 54, were booked into the Teller County jail in Divide on felony marijuana and special drug offender charges. Each is being held on a $50,000 bond, according to the jail inmate log.
The pair are part of an illegal black-market marijuana grow, cultivation and distribution ring that is tied to operators in Colorado Springs and Las Animas County, said Sheriff's Office spokesman Cmdr. Greg Couch.
Anonymous tips led deputies to the Morejons, who were growing marijuana plants in the basement of the home near Spring Valley, Couch said. They were taken into custody without resistance, he said.
Simultaneously on Tuesday, 35-year-old Joseph Vaquilar was arrested in Las Animas County, east of Trinidad.
A third search warrant police carried out at 703 Arrawanna St. in Colorado Springs Tuesday also uncovered a large, illegal marijuana grow. No one was at the property at the time, Couch said. Colorado Springs police and Drug Enforcement Administration agents are searching for suspects connected to that grow and expect more arrests, he said.
The owner of a wrecker service that has an office in the commercial building off East Platte Avenue was not involved, Couch said.
Over the 14-hour bust at the three sites, authorities confiscated $32,000 in cash, 1,500 marijuana plants with a street value of $2.3 million and firearms that included two shotguns, two pistols and two scoped rifles.
Marijuana that is shipped out of state from a state in which it is a legal substance is valued at $4,000 a pound, he said. The raid netted nearly 500 pounds of undried marijuana.
The suspects have been selling the marijuana to buyers in other states and internationally, according to Couch.
While Teller County had arrests related to drug cartels in 2018, Couch said there's no indication this ring has cartel connections. One suspect is of Cuban descent, he said, and all are being investigated for their roles in a syndicated drug circle.
"We feel like we've scratched the surface of a large criminal organization," Couch said. "By no means was this any kind of regulated, licensed commercial grow. This was strictly black-market, illegal activity."
The confiscated marijuana plants are being dried at a Teller County evidence facility and will be weighed, documented and destroyed, Couch said.
Contact the writer: 719-476-1656.