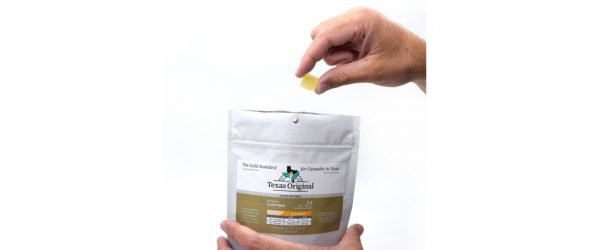 https://cannabisexaminers.com/wp-content/uploads/2020/09/Texas_Original_Compassionate_Cultivation_medical_cannabis_lozenge.jpg
AUSTIN, Texas–(BUSINESS WIRE)–Texas Original Compassionate Cultivation (TOCC), the market leader and gold standard for medical marijuana in Texas, today announced it is expanding its product line to include easy-to-consume lozenges of various strengths. The lozenges reduce a patient's carrying oil intake while mitigating dexterity challenges caused by a traditional dropper for patients suffering from movement disorders.
TOCC's latest product launch addresses some of the limitations of the Texas Compassionate Use Program (CUP). Though the CUP limits a product's legal THC amount to .5% by weight, it does not restrict the amount of THC a person can consume. As a result, consuming an adequate dose based on their doctor's prescription requires that some patients self-administer large, hard-to-digest amounts of carrying oil, which often results in gastrointestinal issues.
"The last few years have proven beyond a doubt that Texas can introduce safe and effective medical marijuana legislation that improves the lives of thousands of Texans," said Morris Denton, TOCC's CEO. "However, the Compassionate Use Program's statutes have created an unfortunate health issue by limiting THC concentrations, thereby needlessly increasing a patient's carrying oil intake and creating an unhealthy side effect for some patients on larger doses."
With more than 145 current qualifying conditions under the CUP and over 200 physicians registered to prescribe cannabis in Texas, eligible patients can easily access TOCC's new lozenges and other products to begin treatment. TOCC's lozenges are formulated with the same CBD and THC concentrations as the company's tincture products, are portable—simplifying consumption at home or while traveling—and provide patients and their caregivers with a consistent, measured dosage.
TOCC patients note lozenges' ease of administration and transport
TOCC initiated a research trial with more than 20 patients in August 2020 to evaluate the efficacy and accessibility of its lozenges. The trial included patients suffering from a variety of conditions and symptoms, including autism, Huntington's Disease, multiple sclerosis, Parkinson's Disease, spinal spasticity and epilepsy.
"The ease of use with the lozenges is a perfect solution for self-administering in any setting for the patient or caregiver," said Leanna Dando, mother to Freeman Dando, a TOCC patient suffering from intractable epilepsy. "There is no dose guessing or potential for error while administering. The added bonus is that they taste good!"
The majority of trial participants reported little to no gastrointestinal discomfort from the lozenges' ingredients.
Medical cannabis proves its viability with thousands of patients and prescribers
Dr. Karen Keough, MD, serves as TOCC's chief medical officer. As a pediatrician and child neurologist for Child Neurology Consultants of Austin, Dr. Keough specializes in treating intractable epilepsy.
"Medical marijuana has proven to be a viable, effective solution for my patients seeking relief from debilitating neurodegenerative diseases," Dr. Keough said. "I've watched patients previously suffering from multiple seizures a day get a new lease on life after introducing cannabis into their treatment plans. Adding lozenges will help expand medical marijuana's benefits to an even wider base of qualifying patients. High doses of oil can sometimes provoke GI upset or diarrhea, which lozenges will help to alleviate."
Lozenges will be available with a prescription at the company's headquarters in Austin, Texas, via home delivery as well as at TOCC's newly launched temporary dispensary sites in Plano, Houston, Katy and San Antonio.
"Registered prescribers and the Texas medical community are discovering and witnessing the positive impact THC is having on their patients and will continue to prescribe higher doses," Denton said. "While the most logical and medically sensible solution would be to increase the cap on THC, until our lawmakers address this issue, our team is committed to producing the highest quality medicine and providing our patients with the most convenient, accessible consumption options legally available under the regulations of the Compassionate Use Program."
For more information about TOCC, visit www.texasoriginal.com.
About Texas Original Compassionate Cultivation
Texas Original Compassionate Cultivation (TOCC) is the leading licensed medical marijuana producer in Texas, working alongside physicians to provide the highest quality cannabis medicine to patients and families seeking relief across the state. As fellow Texans, we are dedicated to representing the integrity of this great state with our commitment to quality, consistency and purity in every product we produce. We remain committed to advancing safe, legal access to this powerful medicine. TOCC is headquartered in Austin, with delivery throughout the entire state. For more information, visit www.texasoriginal.com.