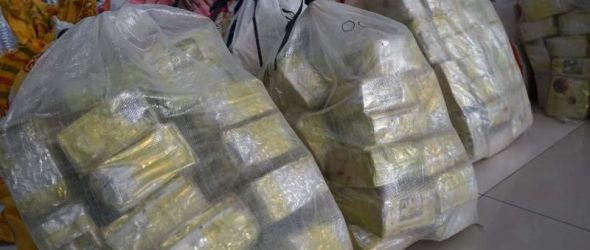 https://cannabisexaminers.com/wp-content/uploads/2020/06/710122.jpg
BANGKOK (Xinhua/ANN): Thailand's drug buster and law enforcement agency on Saturday (June 6) has handed about 600 kilogrammes of seized illicit marijuana to a local university to further study its benefit for medical use.
The Office of the Narcotics Control Board (ONCB) on Saturday showcased the chunk of marijuana it seized from drug traffickers, and said that Rangsit University and the Department of Medical Sciences would be delighted to use the marijuana for medical use and research.
"Actually, there were 11 organizations making requests to the ONCB for marijuana in their Research and Development labs," said ONCB secretary-general Niyom Termsrisuk, adding that the 11 organizations have been active in doing research on marijuana for medical use.
The Thai government in late 2018 passed legislation to allow marijuana for medicinal purposes and research only.
Cannabis remains a Narcotic Type 5, with steep penalties for its misuse.
However in late 2019, the number of illegal drug users rose by 130,000, with Niyom blaming easy access to the drug for the rising number of narcotics users.
"Despite cannabis being available to prescribed patients only, the policy has led to cannabis becoming a readily available source of recreational drugs, especially amongst teenagers," Niyom said. – Xinhua/Asian News Network