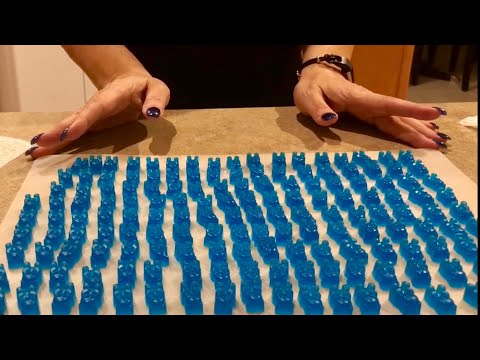 https://cannabisexaminers.com/wp-content/uploads/2018/11/613/hqdefault.jpg

**Useful Links
New Recommended Gummy Machine Candy Crock Kit W/ Molds https://420RxCCC.com/product-links
Nostalgia Gummy Machine https://amzn.to/2MO0fes
Alternate Gummy Machine https://amzn.to/2tYWpY2
https://docs.google.com/document/d/1E_LwkhXVhtyDk1gobi7EkAT3r2v6JwpFK7UPuA2Vyas
Please check us out on FB and Instagram or Twitter @420RxCCC 🧚🏼‍♂️🌱💚
Ingredients
* 3oz flavored gelatin box (not sugar free),
* 2 tsp or two packs unflavored gelatin
* 2/3rd cup of cold water
* 1/2 tsp lecithin
* Your Product (I used 850mg SLH TruClear concentrate)
Combine the powders, add water, stir.
Let sit 10-15 min allowing gelatin to bloom.
Heat on low heat for five minutes, stir, heat five minutes, stir (repeat until it looks fairly clear).
Add THC product, stir in for a minute.
Transfer to molds.
Wait 10-15 minutes until gelatin sets.
Dust the back with cornstarch, if desired.
Pop out of molds (you can dip your fingers in cornstarch to avoid tackiness).
Allow to sit out overnight to allow dehydration of additional water.
Dust them with cornstarch, of desired.
Store in fridge.
Nostalgia GCM600 Electric Giant Gummy Candy Maker
https://amzn.to/2KiNk6t
Disclosure: As an Amazon Associate, I earn from qualifying purchases. When you purchase through these links there are no additional costs to you and you help to support the creation of more free educational content. Win win!