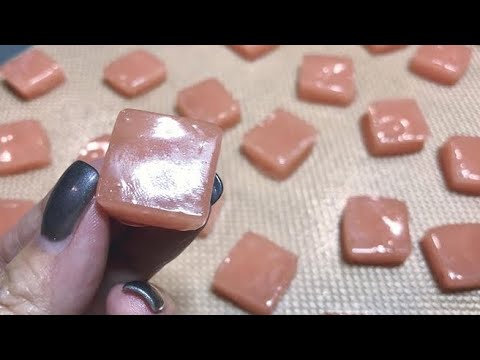 https://cannabisexaminers.com/wp-content/uploads/2018/12/2198/thc-infused-strawberry-starburst-canna-chews.jpg
**Useful Links ~ https://docs.google.com/document/d/1E_LwkhXVhtyDk1gobi7EkAT3r2v6JwpFK7UPuA2Vyas
Please check us out on FB and Instagram or Twitter @420RxCCC 🧚🏼‍♂️🌱💚
Ingredients
* 2 1/2 cups sugar
* 3 tbsp cornstarch
* 1 cup light corn syrup
* 1 1/3 cups water (room temperature)
* 2 tbsp butter softened (more for buttering hands)
* 1 tsp salt
* 2 packages unsweetened Kool aid (any flavor, I used Strawberry Lemonade)
* 1/2 tsp vanilla extract
* 1 tsp lecithin
* Your Product (I used 1000mg MüV Distillate)
Directions
1. Butter a large jelly roll pan or cookie sheet with sides really well.
2. In a medium saucepan, stir together the sugar and cornstarch.
3. Add corn syrup, water, butter, lecithin and salt and stir well on medium heat until butter is melted.
4. Bring to a boil over medium heat and stop stirring when your reach a boil.
5. Cook mixture until candy thermometer read 250 degrees F (120 degrees C). This will take awhile, it's worth the wait, Once it approaches 240 degrees watch very closely because it cooks quickly at the end.
6. Immediately remove from heat. (If you cook it too long it will turn out very hard.)
7. Carefully stir in vanilla, your product and drink mix.
8. Pour mixture onto prepared pan. Allow to cool enough to handle, about 15 minutes. (Try to pull as soon as it's comfortable to handle.)
9. Butter hands and begin pulling, as many time as it takes to become opaque and lighten in color, usually about 15 minutes of pulling. You will probably need to butter your hands a few times.
10. Pull into long rops and cut into bite sized pieces with buttered scissors or a buttered pizza cutter or push into mold.
11. Wrap in squares of waxed paper and make sure to twist the ends really well to seal. Store in an airtight container in a cool dry place.
Enjoy!