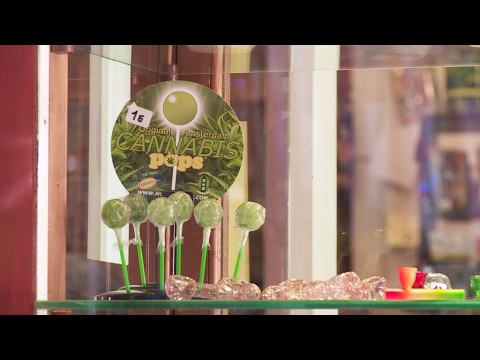 https://cannabisexaminers.com/wp-content/uploads/2018/11/1105/hqdefault.jpg

Subscribe to France 24 now:
http://f24.my/youtubeEN
FRANCE 24 live news stream: all the latest news 24/7
http://f24.my/YTliveEN
In Spain, thanks to the success of the "clubs" that have cropped up since 2011, cannabis has become a gold mine. From by-products such as cannabis lollipops and drinks, to specialised clinics and tourism, an entire economy has flourished around the plant, even though its production remains illegal in Spain. Our reporters explored both the public and hidden side of this booming activity.
It all began in 2011, when cannabis lovers managed to exploit a flaw in Spain's anti-smoking legislation allowing them to consume cannabis in enclosed and private spaces. The state has turned a blind eye to these non-profit associations, where only registered members have the right to smoke freely. Since then, "cannabis clubs" have flourished throughout Spain.
Today, there are as many as 700 of them across the country, bringing together hundreds of thousands of "associates" and handling millions of euros each year. From the sale of by-products to tourism and medicinal care, this "green gold" has generated an entire economy.
But the paradox is that cannabis production remains illegal in Spain. In order to supply the clubs' members, creativity is a must. That's where we discovered the hidden side of this industry. In order for the clubs' owners to open their doors to us and for the main industry players to agree to appear on camera, we had to gain their trust.
Most of the people we met are in their thirties and are fluent in the language of communications and marketing, perfectly aware of what can – and cannot – be shown and said on camera. Conscious of their contribution to the Spanish economy, they are now determined to use their full influence so that cannabis is legalised in Spain, just like in some US states such as Colorado. They have every hope that in this regard, Spain will become a model for the rest of Europe.
FRANCE 24's reporters take you on a discovery of the little-known world of Spain's legal cannabis business.
Visit our website:
http://www.france24.com
Subscribe to our YouTube channel:
http://f24.my/youtubeEN
Like us on Facebook:
https://www.facebook.com/FRANCE24.English
Follow us on Twitter:
https://twitter.com/France24_en