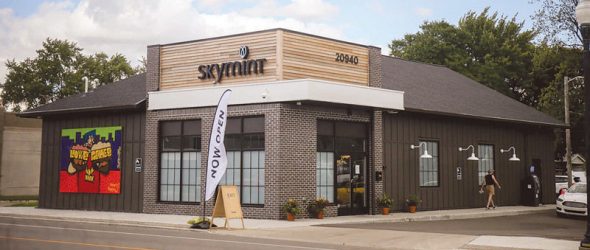 https://cannabisexaminers.com/wp-content/uploads/2020/08/800t88aee3a9bd4884cd8c1cbf3a5be436a9.jpeg
Skymint is the latest recreational marijuana business to open in Hazel Park, bringing the current total to three.
New Standard opened earlier this spring. The other recreational marijuana business is Breeze Provisioning Center, which was the first to open in Hazel Park and among the earliest to sell recreationally in Oakland County.
Photo by Patricia O'Blenes
HAZEL PARK — City officials in Hazel Park say that the town's burgeoning marijuana industry is coming together smoothly. Its latest installment, Skymint, opened its doors recently.
"As the city of Hazel Park sees its third medical marijuana/recreational cannabis open, I realize this may look to some as sudden or quick or coming out of the blue — three in six months. But in reality the city of Hazel Park has been working towards allowing legal cannabis industry businesses into our community since 2010," said Hazel Park City Councilman Andy LeCureaux.
"From the beginning, we took into consideration the concerns of residents and businesses alike and the 2.8-square-mile size of Hazel Park. We thought of having the dispensary/retail outlets concentrated in one area of the city, but decided that having them spread out in the city was a more desirable approach," he said. "During this whole process, the state of Michigan has made this difficult, like shooting a moving target. But so far I'm pleased with the results. The businesses have been good community partners … and cannabis is a growing industry with a revenue stream that will help the city of Hazel Park financially, and be a source of other economic developments."
Rehabilitating the business landscape of Hazel Park has been one benefit so far, officials say. Skymint, located at 20940 John R Road, replaced a former bar. The bar was torn down and a new building was built in its place. A neighboring house was also acquired and turned into a parking lot.
Hazel Park is the latest location for Skymint. The company also has locations in Ann Arbor, Bay City, Flint, Lansing, Newaygo, Nunica, Traverse City and White Cloud. The Hazel Park location opened at the end of July.  
The other two recreational marijuana businesses in town include Breeze Provisioning Center, located at 24517 John R Road, and New Standard, located at 24906 John R Road. Breeze was among the first companies to open for recreational marijuana sales in Oakland County, the other being The Greenhouse in Walled Lake. Its location was previously an insurance office. It originally opened Feb. 11 selling medical marijuana products including edibles, oils and topical products, and then acquired a license for recreational marijuana sales on Feb. 19. It began selling recreational marijuana March 8.
New Standard opened April 3, located in the former Maytag Home Appliance Center building. This involved a complete new buildout and acquisition of a house for an enhanced parking lot.
All three businesses are provisioning centers. They have given back in various ways, as well — for example, New Standard donated $10,000 to the Patroncity Fund that benefitted businesses in Hazel Park hurt by the pandemic, and Breeze assisted with the construction of the new playscape at Scout-McPherson Park last summer.
The city of Hazel Park allows for growers, processors, secure transporters, safety compliance facilities, provisioning centers, microbusinesses and, potentially, consumption lounges. But at press time there were no pending recreational marijuana licenses under further consideration in Hazel Park.
"On the whole, the marijuana businesses have been a net positive for the city of Hazel Park," said Hazel Park City Manager Ed Klobucher "They have created jobs for our residents, and they have donated to many community causes and organizations. Community involvement was a requirement of licensing in our city, and I am pleased that the proprietors of these businesses are meeting or exceeding their promises."
Hazel Park City Councilman Mike McFall agreed.
"Hazel Park has always been at the forefront, and I feel our entry into the marijuana industry has gone well so far," McFall said. "Our recreational retailers are helping lead the revitalization of John R, having either built a new building or completely updated a building that had been sitting empty for years. They also provide good-paying jobs and employ many of our residents. So far, I believe it's been a real win for the city."