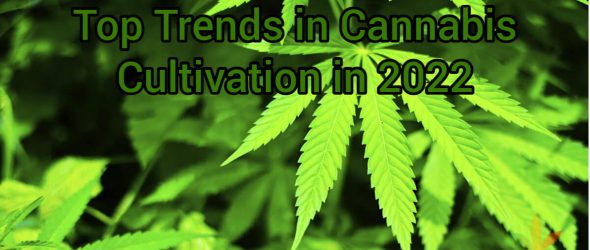 https://cannabisexaminers.com/wp-content/uploads/2022/07/top-trends-22-1.jpg
Contents
Greater Marijuana Variety
Adapting to Climate Change
Saving Water and Energy
Grow Room Manipulation
Optimized Soilless Setups
Automated Canna Gardens
Cannabis Cultivation: All About Efficiency
Legalization, medicinal research, and opinion changes are doing wonders for the cannabis industry's growth. The plant's future is bright and profitable—and the market is catching up.
Modern manufacturers have access to top-tier seeds, tools, and cannabis nutrients. Each year brings additional advancements to boost the amount, quality, and variety of available marijuana. This one is all about technology, diversity, and environmental friendliness.
Here are the top six trends that emerged and gained traction in 2022.
Greater Marijuana Variety
Analysts expect the weed industry's worth to reach $32 billion in 2022 and $43 billion by 2025. And no, the existing shopper base didn't suddenly start buying twice their usual stash. Instead, there's an influx of customers looking to try the herb.
As the demographic diversifies, so does the demand for different types of bud. Old-school, spicy, and moderately potent weed isn't going anywhere, but shoppers are also clamoring for:
Medicinal strains. Patients are looking for herbs like Cannatonic—gentle, energizing, and suitable for smoking before work.
Low-THC specimens. More people consume cannabis daily, which doesn't work with socks-off buds. Cultivars like Holy Bubba are in high demand among lifestyle tokers.
High-THC varieties. Recreational smokers are looking to test their tolerance levels. They love psychoactive powerhouses like Bigfoot Glue.
Users are also interested in alternative ways to get high. Neat and discreet paraphernalia and no-smoke delivery methods are becoming popular, creating a market for vapes, edibles, oils, and tinctures.
Adapting to Climate Change
The world is heating up and creating new challenges for outdoor marijuana gardens. Climate change brings:
Increased temperatures
Rainfall shifts and droughts
Elevated CO2 levels
How are manufacturers responding to these shifts? By making intelligent strain choices.
Cultivars with shorter life cycles are at a lower risk of fires, floods, and early freezes. The same principle is pushing growers towards autoflowering variants. They also opt for sturdy specimens capable of withstanding unpredictable weather fluctuations.
These developments could affect which cultivars dominate the market. Current trends suggest more indica, while sativa might carry higher price tags.
Saving Water and Energy
With cannabis industry growth comes the need to avoid overtaxing the planet. Water and power consumption have the spotlight in 2022.
Research has shown that hemp and marijuana require more water than traditional crops. So efficient management is a big topic, especially in dry states like California.
Here are some thrifty ways cultivators accommodate the water requirements of thirsty crops:
Controlled irrigation—giving smaller aqua amounts in regular intervals
Covering the soil—adding a layer of mulch to increase moisture retention
H2O storage units—installing catch-and-save systems to repurpose rainwater
Electricity is another large spending area. So cultivators choose alternatives to powered devices, like mist sprays instead of AC units and humidifiers. Many facilities are also switching to LED lights for greater energy efficiency.
Grow Room Manipulation
Light training has been the go-to process for manipulating yields for years. Today's cultivators can combine it with crop steering to further increase the output of each seed.
Crop steering is a practice where you adapt the environment to encourage desirable growth traits. The goal is usually a short, bushy crop with plenty of bud sites, which is possible through:
Irrigation—higher watering frequencies keep plants smaller, and faster-growing
Climate—day-night temperature differentials increase the harvest potential
Nutrients—nitrogen kickstarts branching, potassium and phosphorus encourage bud production
All indoor growers already practice some forms of manipulation. The main difference between individual and commercial ops is the amount of management. Large-scale manufacturers have scripts for each seed-to-harvest week and software to track it.
Optimized Soilless Setups
Modern cannabis trends revolve around boosting output, so soil cultivation is no longer a top choice. More growers are adopting hyper-optimized systems for higher harvests.
Hydroponic weed is the perfect example. It replaces soil with nutrient-rich water, letting crops grow more quickly and vigorously. This process consumes less moisture, reduces susceptibility to pathogens, and increases harvests.
Aeroponics is a continuation of this trend. It utilizes nutrient-laden mist to nourish plants while roots remain suspended in the air. The extra oxygen exposure encourages development and discourages mold and pests. Water and space savings are immense.
These two mechanisms pair well with vertical farming, where you stack containers on top of each other. This principle doubles or triples the number of plants in a facility, making it ideal for high-yield urban gardening.
Automated Canna Gardens
Technology is driving most cannabis industry trends—so it's no wonder that automation is exploding in popularity. Today, we have access to sci-fi levels of horticultural tech, tackling most gardening tasks without human input.
Fields where tech shines include:
Garden management software to track and optimize the environment.
Inspection drones to monitor facilities. HD cameras can catch tiny pests in action!
Drips, meters, and sensors to feed crops and maintain the optimal conditions.
Trimming machinery to produce neat, manicured buds.
These developments mean that many facilities run independently. Robots control the conditions, and marijuana prices drop since less investment goes into production.
Cannabis Cultivation: All About Efficiency
Cultivation in 2022 is easier and faster than ever. Technology is making weed affordable and accessible to all. Combine that trend with legalization, and we expect the cannabis industry statistics to indicate unrelenting growth in the coming decade.
Why not take advantage of these developments? They're as valuable to at-home cultivators as to those with commercial ambitions. Buy seeds, adopt tech, and grow like the experts.
Kyle Kushman
Kyle Kushman is an American writer, educator, activist and award-winning cannabis cultivator and breeder specializing in veganic cultivation. He is a representative of Homegrown Cannabis CO company, has been a contributor for over 20 years, and has taught courses in advanced horticulture at Oaksterdam University in Oakland, California and across the United States. Kushman also hosts a cannabis podcast called "The Grow Show with Kyle Kushman".