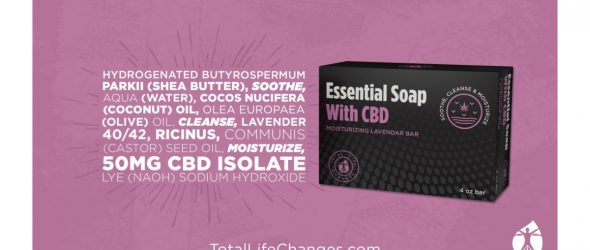 https://cannabisexaminers.com/wp-content/uploads/2020/06/TLC_CBDSoap_PR_16x9.jpg
FAIR HAVEN, Mich.–(BUSINESS WIRE)–Total Life Changes announced today through its Facebook page the availability of its Essential Soap with CBD moisturizing lavender bar. The soap is $14.95 and is available through the totallifechanges.com website.
The soap is the latest entry in the health and wellness company's growing stable of CBD-enhanced products that includes Alleviate topical cream and versions of their popular Harmony Drops and Iaso Tea.
The global market for CBD-based products is estimated to be larger than $4.6 billion, with continued annual growth of around 25% expected.
Total Life Changes is a network marketing company that distributes health and wellness products, including dietary supplements, weight management support, essential oils, and skin care creams.
More information about the company's products and business opportunities is available at www.totallifechanges.com, or at its Facebook pages, TLCHQ or TLCHQcommunity.