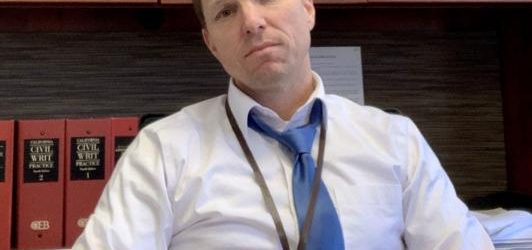 https://cannabisexaminers.com/wp-content/uploads/2020/02/5e582705cdae3.image.jpg
Two of three staff members in the county's Division of Cannabis Control office will be leaving the county by the end of March. Those are Ethan Turner, interim program manager and Karen Osborn, an extra hire that has been providing administrative assistance.
Turner and Osborn will be leaving behind a program that, still in its infancy, has been on a tight budget due to conflicts among the county Board of Supervisors.
On top of a minimal operating budget running on transfers from other department budgets, recruiting for permanent positions in the office has been difficult, County Administrative Officer Al Alt told the Enterprise in January.
Still, the department has drawn in hundreds of thousands of dollars in registration fees from prospective cannabis cultivation applicants over its first few months in existence.
Alt could not be reached for comment for this story.
The last day for both Turner and Osborn is March 31.
Turner is taking a job at the Capitol with the Division of Cannabis Control at the California Department of Justice.
Originally hired in 2016 on a two-year contract to handle cannabis-related issues, Turner ended up becoming a permanent member of County Counsel, providing legal representation for various departments and handling most of the writs of mandate associated with the 2016 Urgency Ordinance and 2018 ban ordinance, he said.
Although the new work will be higher-paying and offer more room for career advancement, "it was an extremely difficult decision to leave the county," Turner told the Enterprise in a phone interview Thursday. "I love working here, I love my colleagues and I would really like to see this program succeed, but I think whoever takes my position will also be able to see it through."
Turner said recruitment is open for the position, which he described as a "politically fraught role – there's no way you can do it and please everyone."
The county will likely hire internally if it can't find a qualified applicant in time, Turner added.
"If anyone knows of any talented people who are lawyers interested in applying for that program, they should," Turner said.
Osborn is retiring – again.
In 2018, she departed with 18 years of service under her belt, most of which were spent in the county administrative office.
Osborn came out of retirement in January to fill a need at the office, with plans to stay until her house sold.
It did, and now she's headed to Florida to be closer to family, Osborn told the Enterprise in an email Thursday.
"I've enjoyed my time back at the county helping set up the Cannabis Department," Osborn said. "It's been very interesting. And seeing all my old friends/co-workers and working with a few new ones has made the last couple of months very pleasurable and go very quickly. I would actually love to stay longer, but my house has sold, so my husband and I are moving to Florida in April to be closer to family."
Osborn was a "remarkably talented asset" who "knows the county inside and out," Turner said, adding, "we were lucky enough to have her come out of retirement for a few months."
That leaves Ben Diamond, who came from Planning to serve as a temporary department analyst, according to Osborn.