Drug dealing "has been raised as a concern at community meetings to myself and local elected members"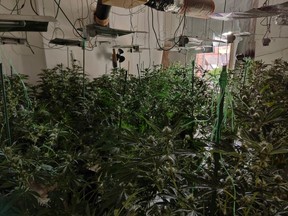 Article content
A man in the U.K. has been arrested on suspicion of cultivating a Class B drug, namely cannabis, after the police found an illegal grow-op 550 plants strong.
Acting on tips from members of the community, officers with the Greater Manchester Police (GMP) executed a drugs search warrant at the Wigan, U.K. property at about 9:30 a.m. on June 7, notes a police statement.
Article content
Inside, they found both the substantial grow and a man, who was promptly arrested and was taken into custody.
According to the Manchester Evening News, the illegal grow had been set up in a large Victorian terraced home.
Officers discovered that the "house had been fully converted into a large cannabis farm and the electricity had been bypassed," Wigan Today adds.
The electrical supply had been tampered with to power the grow, so GMP reports engineers were called to the scene "to make the electricity safe."
Beyond the plants, though, the search reportedly revealed plant pots, artificial lighting equipment and other ventilation units.
Drug dealing in the district "has been raised as a concern at community meetings to myself and local elected members," Sergeant Nick Forshaw of GMP's Wigan district says in the statement.
Article content

"As promised, we are doing our best to bring offenders to justice and take illegal drugs out of circulation," Forshaw adds, citing the importance of "the support of honest members of the public."
Recreational cannabis is illegal throughout the U.K. Supplying or producing the drug carries a maximum of 14 years in prison, an unlimited fine or both, although the maximum is rarely, if ever, used by the courts.
Other Class B drugs include amphetamines, barbiturates, codeine, ketamine, methylphenidate, synthetic cannabinoids and synthetic cathinones, information from the U.K. government notes.
Just this month, public complaints about a cannabis smell emanating from a former post office in the U.K. revealed 150 cannabis plants, the second time the same location had been busted as an illegal grow site.
And GMP's Bury South division couldn't help but gloat a bit after discovering $158,000 worth of illegal cannabis during a recent raid.
This time, though, the cannabis was not plants, but already processed bud. "Somebody is going to be a bit upset …" the police wrote in a cheeky tweet complete with a photo of the cannabis on a living room floor that had been recovered and, as such, was lost to whoever "owned" it.
Subscribe to Weekend Dispensary, a weekly newsletter from The GrowthOp.