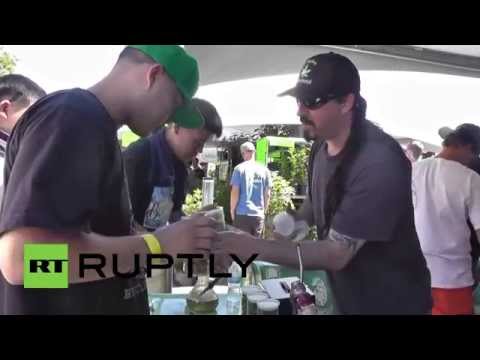 https://cannabisexaminers.com/wp-content/uploads/2018/11/2010/usa-8220high-times8221-at-california8217s-annual-cannabis-cup.jpg
Video ID: 20140629-010
M/S Women dressed as nurses dancing in booth as man tests cannabis
C/U Bongs
M/S Marijuana plants
M/S Man smoking bong
M/S Marijuana in jars at booth
C/U Marijuana in jars at booth
M/S Man smelling marijuana
W/S Festival goers
M/S Girl with marijuana-shaped glasses
C/U Large joint
M/S Man showing off his joint
C/U Man posing for picture with joint
SOT, Festival goer, Dock (in English) says "Marijuana will become legal nationally, once they figure out how to make us pay. Or when big interests get involve, I'm sure it will, I'm sure it will".
M/S Marijuana booth
C/U Jars of marijuana
SCRIPT
Thousands of marijuana enthusiasts gathered on Saturday for the fifth annual "High Times" Cannabis Cup in Santa Rosa, California. Held two hours north of San Francisco, over 250 competitors battled it out for first place in this year's competition, which drew a crowd of over 4,000 people.
The event provided cannabis experts with an opportunity to showcase their pot-based products to the public, with participants selling flowers, concentrates, clothing, and other cannabis-related paraphernalia.
However, as recreational cannabis hasn't yet been legalized in California, "medication areas" were provided for those who wanted to test their products on the condition that users carried valid California I.D. and their medical marijuana licenses.
The two day event also provided cannabis hobbyists with a chance to join seminars, lectures and enjoy a range of live music. The San Francisco Cannabis Cup will continue until Sunday evening, June 29.
Facebook: http://www.facebook.com/Ruptly
Twitter: http://twitter.com/Ruptly
LiveLeak: http://www.liveleak.com/c/Ruptly
Google Plus: http://plus.google.com/111498286331086224967
Instagram: http://www.instagram.com/Ruptly
YouTube: http://www.youtube.com/user/RuptlyTV
DailyMotion: http://www.dailymotion.com/ruptly
Video on Demand: http://www.ruptly.tv