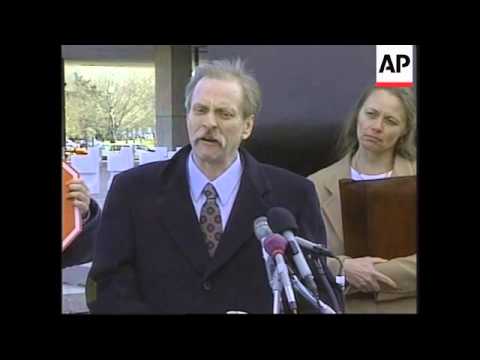 https://cannabisexaminers.com/wp-content/uploads/2018/11/1610/usa-los-angeles-medical-use-of-cannabis.jpg
English/Nat
New guidelines are about to take place for the study of cannabis for medical use in the United States.
Although initially applauded by some medical groups and advocates in favour of using cannabis for medicinal purposes, there is now growing concern that the new guidelines are too cumbersome and will stifle attempts at research.
There is also a renewed push for allowing seriously ill patients to use marijuana on compassionate grounds.
A tin containing cannabis cigarettes is held up for display.
George McMahon, who suffers a rare terminal syndrome, receives a legal supply of about three hundred medical cannabis cigarettes a month on a federal programme that has since closed.
He says using cannabis has prolonged his life and reduced the suffering caused by the drugs used to treat his medical condition.
Now no one else can join the programme.
SOUNDBITE: (English)
"Its impossible now. My daughter, here we go. Besides my friends who can't reach this medicine my daughter and granddaughter have what I have and I don't know if they will need what I needed, but I know that there are so many people across this country who have the documentation. I was at the IOM hearing with Jim with the doctors suggesting that his paperwork was so similar to mine, the symptoms, not anything to do with the cause. But the symptoms from two widely varied illnesses. His paperwork should have certainly got him into the programme."
SUPER CAPTION: George McMahon, Medical Marijuana User
Unlike McMahon, Jim Harden cannot legally use cannabis and he risks arrest and imprisonment every time he uses the drug.
Suffering from a terminal liver complaint, Harden has been denied access to the drug many doctors have recommended for him.
He says cannabis reduces his pain and increases his appetite.
Because he is too sick to be a candidate for a liver transplant, Harden believes relieving his suffering is the best he can hope for.
SOUNDBITE: (English)
"I don't mind the dying part. But I really don't want my sons and my wife to see me suffer through it. If there is something out there to keep me from suffering and I don't have to take medicines that hasten my liver disease to my eventual end. They named me in here, they said let him have it. I'm not asking for much, I just don't want to suffer and who has a right to make me suffer?"
SUPER CAPTION: Jim Harden, Liver Disease sufferer
The new Health and Human Services guidelines explicitly reject an Institute of Medicine report, a federal advisory panel, that recommended to allow use of cannabis on compassionate grounds.
That report said cannabis can help fight pain and nausea and should be tested further in scientific trials.
Allowing use on compassionate grounds was one of the demands of the coalition of health workers, researchers, advocates and patients who use cannabis as a medicine.
They protested against the new guidelines outside the U-S Department of Health and Human Services.
SOUNDBITE: (English)
"This is a classic example of putting politics before science and in this case its the politics of the extreme, because we know the American people support access to medical marijuana. Every time the voters are given a chance in an initiative process or in polling, they make it clear that they think the responsible use of medical marijuana is appropriate."
SUPER CAPTION: Daniel Zingale, Aids Action Council
The U-S federal government has not relented in its opposition to legalising cannabis for medicinal uses.
The Justice Department is challenging voter-approved laws in Alaska, Arizona, California, Oregon and Washington.
U-S Drug Czar, Barry McCaffrey defends the new guidelines saying that cannabis is prohibited for good reason.
You can license this story through AP Archive: http://www.aparchive.com/metadata/youtube/4652f674195fdfe99ec55949a53239d3
Find out more about AP Archive: http://www.aparchive.com/HowWeWork