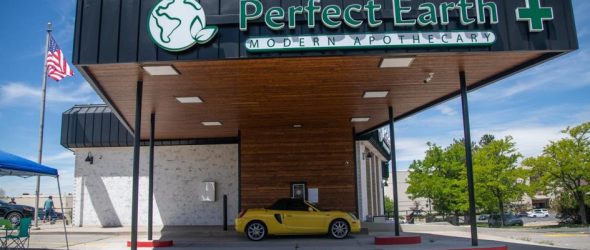 https://cannabisexaminers.com/wp-content/uploads/2020/06/5edc130fd9e02.image.jpg
Now that she's able to get medical marijuana, Nicole McGarry says her life has taken a dramatic turn for the better.
"With edibles, within two days, no more pain in my stomach. I could eat my own food for the first time in two years," said the Ogden woman.
She had long suffered from gastroparesis, which hampers the ability of the stomach to move food in the digestive tract, and none of the traditional medications she tried helped. She was wasting away, listless, weak, reliant on a feeding tube and could barely communicate. The edible medical cannabis she's been able to get since such products legally went on sale in Utah starting March 1, though, has made all the difference. She can eat her own food, enabling her to gain weight. Her energy has returned.
"It's everything to me. It's my health," she said, clutching her recent purchase from Perfect Earth Modern Apothecary, the South Ogden medical cannabis dispensary that opened last month. "My son has a mother now. My husband has a wife. My friend has a friend."
Still, the rollout — just three months old — is far from complete. Even McGarry admits it. Prices for some products are high, the range of available medicine is limited, and so far only three of 14 dispensaries allowed under Utah law have opened: Perfect Earth, another in Salt Lake City, and a third in North Logan.
"We need to get the program going. We definitely need a quicker rollout," McGarry said.
Desiree Hennessy, executive director of the Utah Patients Coalition, pushed for the legislation creating the medical cannabis industry here and has been a big proponent. Patients must get the OK from a medical expert to use medical cannabis, and they need a letter from their caretaker or a cannabis card issued by the Utah Department of Health.
"There absolutely is product that is working for people in Utah," Hennessy said. "There's absolutely product that people are loving."
Nonetheless, she echoes McGarry in saying there's room for improvement, also noting high prices and limited product availability. It's not necessarily anything unexpected, though, and not necessarily the product of any inherent flaw in the state's plan in launching the industry.
"It's just complicated. It's more complicated than most people can appreciate," said Pam Harrison, an Ogden advocate and licensed clinical social worker who has frequently discussed the benefits of medical cannabis with her clients.
Prices might level off as more cannabis is grown, producers process it into the broader range of products patients seek, and more pharmacies open. Harrison has heard two or three more pharmacies could be opening by July. Meantime, though, the industry moves ahead in "starts and fits," she said.
In her case, Harrison has been searching out a transdermal patch to help her with a pain issue, so far to no avail. She tried another cannabis product, with only partial success.
"It takes the edge off. It doesn't take it completely away," she said.
Similarly, tablet and capsule products aren't yet out on the market — at least not as far as Harrison has been able to determine — while others run out quickly due to strong demand when the three pharmacies here introduce them.
Underscoring some of the relatively high prices, Harrison noted that at current rates in the state's pharmacies, an ounce of cannabis flower would go for $400.
"That's way high for the black market. That's way high for surrounding states," she said.
Hennessy acknowledged that prices are relatively high. But that wasn't unexpected, since an industry takes time to evolve and develop. Moreover, the prices aren't necessarily higher than in other states when medical cannabis was first introduced.
And whatever the hitches, McGarry said medical cannabis works and has changed her life. Aside from alleviating her gastroparesis symptoms, it's helped with a range of other ailments as well, changing her life.
"It is a profound change I was not expecting, that's for sure," she said.