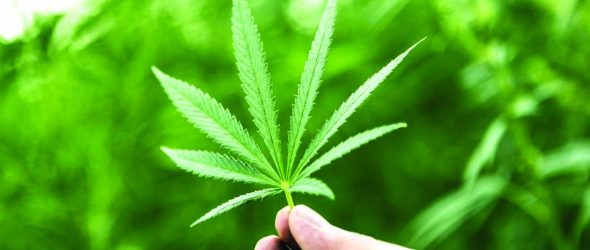 https://cannabisexaminers.com/wp-content/uploads/2020/08/a-man-holding-a-marijuana-leaf-color.jpg
VISTA — For those medicinal marijuana dispensaries outgrowing their location, the City Council has approved a new fee for them to expand on their current location.
During its Aug. 25 meeting, the council approved a $390 fee for marijuana businesses who can expand at their current address, according to Aly Zimmerman, assistant city manager. If a dispensary moves to a new location, it would trigger different processes and fees, she added.
The item was brought forward by an unnamed dispensary, although it resides in District 2, according to Councilman Joe Green, who represents the district.
"I know that it's new and uncharted territory," he said. "This fee at $390 does truly know that we are charging our business owners for what we need to charge them. They have been successful businesses … and the tax revenue generated has been excellent."
Expansion was not identified in Measure Z, which was passed by Vista voters in 2018, nor was it addressed by staff with subsequent fee recommendations, according to the staff report. As such, staff prepared the application to address a minor review required to permit this and any future requests.
Also, the majority of the required information would have been provided during the initial review period, but Zimmerman said the $9,368 fee was not appropriate to apply to an expansion application.
Additionally, Green referenced the city's recent decision to approve yearly fees of $23,000 for non-delivery businesses and $28,000 for those with delivery. Currently, there are six medicinal marijuana businesses operating in the city.
Green said the expansion fee is appropriate considering the staff time for review is minimal.
Councilman John Franklin, meanwhile, stressed the item before the council was not expanding the number of dispensaries in the city.
"This item does not authorize new locations or increase the total number of dispensaries," he said. "This simply provides for a marijuana business to expand within its existing footprint and not beyond the address. We are treating them fairly."
Two residents spoke against the item, saying marijuana puts the health and safety of the community and youth at risk.
Kelly McCormick, a parent and public health educator, agreed all fees, especially those associated with marijuana, should truly reflect the staff cost. However, she said many parents are not in favor of expansion.
McCormick said there are an abundance of marijuana businesses with Measure Z. Also, she said it equates to another business coming to town and it should be treated as such.
Becky Rapp, another concerned parent, also said expansion was upsetting.
"It seems more research should be done," she said. "According to a recent SANDAG report, drug use is up among teens by 5% from last year. Marijuana is the drug of choice for youth. We do not need to expand pot shops in our city."