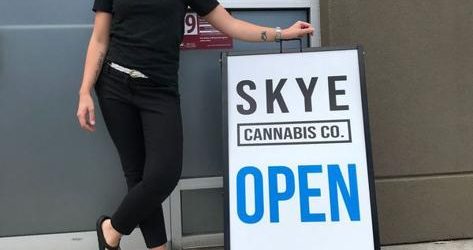 https://cannabisexaminers.com/wp-content/uploads/2020/06/5ef5284dbf89e.image.jpg
West Kelowna got its fifth recreational cannabis store Sunday as the Skye Cannabis Co. opened at 103 —1192 Industrial Rd., near the Town Pantry and A & W.
This is the only location for Skye so far; however, Natasha Raey, media spokesperson at Skye Cannabis, said they are looking at other locations.
"We wanted to make sure we did this one really well before we moved onto another location," she said.
Skye Cannabis chose to open in West Kelowna because of its sense of community.
"It's a smaller town and it still has that small-town vibe and it's full of cannabis connoisseurs," Raey said.
Raey said she's not concerned about the number of pot shops in West Kelowna, likening the situation to the number of private liquor stores available.
"They are all doing fine," she said.
Skye Cannabis offers an extensive array of products for everyone from the younger consumer who may be looking for product with higher THC or tetrahydrocannabinol, which gives the high sensation, to older adults who may be looking for an oil to help them sleep.
The store offers a 10% discount to consumers 55 years and older on Sundays.
Skye's products include over 41 different types of flower, including the ounce, 28-gram packs that just came into the province. As well, there are oils, topicals, oral sprays and pre-rolls ranging from low to high THC and even some cannabinoid or CBD rich options, which don't create a high effect. 
Edibles include beverages, chocolates and some gummies.
Everything Skye Cannabis has in stock is categorized and on display in the 1,400-square-foot store. 
The staff is educated and ready to help people find the product they're looking for.
Raey said Skye has a small seating area and Instagram wall for people who want to take photos. 
Customers can also reserve the products they want online at skyecannbis.ca, and come to the store to pay and pick it up.
The service allows people to reserve items like Shatter, an extract that hasn't been legally available before, or the ounces that are popular as soon as they hit Skye's computer system.