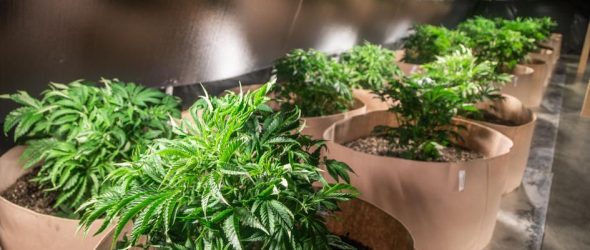 https://cannabisexaminers.com/wp-content/uploads/2020/08/5f2b2464de17d.image.jpg
OGDEN — Another cannabis growing operation is hoping to locate in Weber County, joining Harvest of Utah.
Zion Pharmaceuticals, one of eight firms to get a license last year from the Utah Department of Agriculture and Food to grow medicinal cannabis, is hoping to locate in western Weber County. Any marijuana grown at the site would be processed into medicinal products elsewhere.
"You'd really be serving your county well and your constituents to allow that opportunity to be within your county," Seth Gomm told Weber County commissioners in seeking a zoning amendment allowing the plans to move forward. Gomm is a Pleasant Grove attorney and a stakeholder in Zion, which already has a growing operation in southern Utah and a processing facility in Salt Lake County.
At their meeting Tuesday, commissioners ultimately approved the change meant to allow Zion's plans to move forward, notwithstanding Commissioner Scott Jenkins' concerns about drawing an excessive number of cannabis operations to the county. It turns out the wording of the amendment wasn't quite precise enough, though, and Charlie Ewert, principle planner in the Weber County Planning Division, said Wednesday that commissioners will have to take up the issue anew, probably at their meeting next Tuesday.
Zion's operation would be within a greenhouse, Ewert said, and it would cover less than 100,000 square feet of land, according to Gomm. The application for the zoning amendment was filed by Pineae Greenhouses, which operates in western Weber County, and the paperwork identifies the firm as the holder of the cannabis cultivation license.
"As a regional leader in industrial hemp greenhouse and nursery plant production, Pineae is extremely well-positioned to use its techniques to assist the state of Utah in meeting the growing patient demand for medical cannabis," the application reads. "While the program continues to develop and mature, licensed medical cannabis cultivators need established and responsible partners like Pineae to meet the medicinal needs of Utah's patients."
Weber County, the application went on, is home to the third-largest pool of people with state-issued cannabis cards, allowing them to get medical marijuana, behind only Salt Lake and Utah counties.
While ultimately agreeing to change, Jenkins expressed concern about allowing too many medical cannabis operations in Weber County, also home to a medical cannabis dispensary, Perfect Earth Modern Apothecary in South Ogden. Utah lawmakers approved legislation in late 2018 allowing production of medical cannabis products in the state for the first time and the industry here is still in its infancy.
"How do we do let people know that we're not going to approve a second (zoning amendment change) or a third one or a fifth one? I don't want to be a county of marijuana producing. I want to have a marijuana unit approved to comply with state code and that's it," Jenkins said. There's good ag land in western Weber County, he went on, and cannabis "pays a whole lot more than corn pays."
Commissioner Gage Froerer noted that the state has granted only eight licenses allowing for cannabis growth, boding against explosive expansion in the sector.
Ultimately, the officials approved an amendment granting Zion permission to grow on land zoned A-2, meant for medium-intensity agricultural operations and the classification applicable to the land where the operation would be located. Original zoning guidelines allowed for cannabis cultivation only on certain plots zoned for manufacturing and land zoned for the most intense agricultural uses, A-3.
However, the language commissioners inadvertently used in taking action on Tuesday would prohibit a second cannabis growing operation in Weber County, Ewert said. They meant the language to read that there couldn't be a second growing operation in Weber County on land zoned A-2, and that's the discrepancy they'll have to correct.
Harvest of Utah, a subsidiary of Arizona-based Harvest Health and Recreation, also received permission from the state to operate in western Weber County. A Harvest rep couldn't immediately be reached for comment Wednesday on the status of that facility. Ewert, though, understands it's operational.