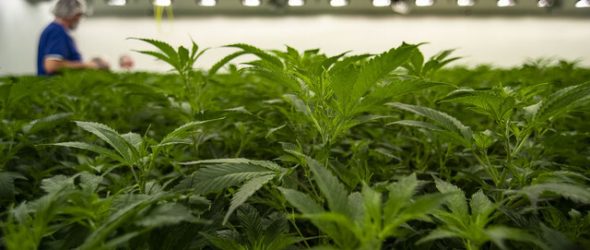 https://cannabisexaminers.com/wp-content/uploads/2020/04/cannabis_p3453841.jpg
Photo: Contributed
Angry residents of the Crystal Springs modular home park got their wish.
West Kelowna council will hold a public hearing on an application for a text amendment concerning a legal cannabis grow facility abutting their property.
A staff report on the application recommended council waive the provision for a public hearing, which prompted several dozen angry responses from residents of the 55+ community.
An industrial and hillside development permit was issued for the Kyle Road site to include six buildings a year ago.
Planning manager Brent Magnan says two of those buildings are under construction, with a third awaiting a building permit.
Mangan says the issue before council was not whether a cannabis production facility could be built on the site, but whether such facilities could be included within a multi-tenant building.
"Cannabis production is prohibited in buildings with multiple occupancies to protect the people already leasing, renting or owning, and having someone move in and producing cannabis," said Magnan.
"Because the buildings are currently under construction or pending approval for building permit construction and not occupied, the concern is limited.
"Buildings one and two, if they were not multi-tenant buildings, they could build cannabis production facilities with only a building permit and a license from the federal government."
Council unanimously gave first and second reading to the text amendment, as well as an application to reduce the required buffer from 150 metres to 110 metres for the adjacent Brookhaven Care Facility.
However, council did not agree to waive the public hearing.
"If there are individuals that wish to be heard, we need to facilitate that, and they have the right to be heard. Even if their questions are easily answered and addressed moving forward and put to bed," said Coun. Rick deJong.
"They still have the right to be heard."
Coun. Doug Findlater added cannabis grow facilities are controversial developments, and feels the public should have the chance to say what they think.
"Then we got 40 or 50 emails from the public on Monday and Tuesday. It's a very live issue, and it's in the media as well. The City of West Kelowna is being portrayed as denying people their rights."
Coun. Jason Zilkie stated there is a lack of both understanding and education around an industry which has only been legal for a few years.
He pointed to the large Flowr facility in Lake Country, which he says he been a very good neighbour. He said there were some odour issues early on which have since been rectified.
However, Coun. Jason Friesen cautioned neighbours to be very clear as to what the public hearing is about.
"This is not about whether or not we can actually put a grow op in those buildings," he said.
"This is whether or not we can approve multi-tenants. All those buildings except for building three meet the buffer, meet the zoning, all the points of industrial land.
"If you come to the public meeting and say it's going to stink, yes it's going to stink, but it is allowed. Keep that in mind… understand what it is we are actually discussing."