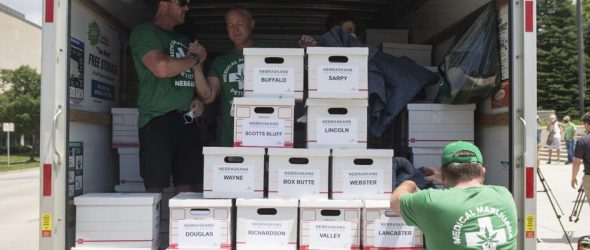 https://cannabisexaminers.com/wp-content/uploads/2020/09/5f6e6fe72a5a2.image.jpg
The question of who paid to keep a medical marijuana initiative petition off the November ballot remains a mystery. 
Even the challenger — Lancaster County Sheriff Terry Wagner — says he doesn't know who paid for the work to get the issue in front of the Nebraska Supreme Court. His name was on the case that ended with a majority of Supreme Court justices throwing out nearly 18 months of work and signature gathering by advocates of legalization of medical cannabis in Nebraska.
"I do not know," Wagner said. "All I know is that no tax dollars were used in that litigation."
Wagner became the challenger, he said, when Lincoln attorney Mark Fahleson "brought to my attention that it didn't appear that the ballot language met the constitutional muster for single issues."
The Nebraska Constitution states: Initiative measures shall contain only one subject.
The lawyer, a former chairman of the Nebraska Republican Party from 2009 to 2013, wanted to use Wagner's name on the challenge, he said, and since it was no secret he was against medical marijuana, Wagner agreed to do it.
Fahleson, when asked who paid for the challenge, said the answer was a matter of attorney-client privilege. On the question of why he chose Wagner to be the signatory on the challenge, he said that also was attorney-client privilege and couldn't be revealed because it was part of the attorney work product, including notes, mental impressions, conclusions, opinions or legal theories developed in anticipation of litigation or for trial.
"One thing I can tell you, I can assure you 100%, hand on the Bible with my lawyer oath to tell the truth, that no public or taxpayer dollars were expended for purposes of that litigation," Fahleson said.
Wagner said he reviewed the challenge to ensure he wasn't signing on to something contrary to what he thought. The attorneys took it from there, he said.
Wagner said as a public servant whose job is to enforce existing laws, he can express opinions about ballot initiatives on work time.
Lincoln police seek to increase transparency with hub of information
"I've testified against it (medical marijuana legalization) on work time," he said. "On this particular issue, (I spent) a little time, but not much, reading the legal documents that were prepared."
Part of his job, he said, is to review potential state statutes, and he testifies in front of the Legislature all the time.
His objection to medical marijuana is that, first of all, marijuana is not medicine, Wagner said. And every state that has legalized recreational marijuana started off with medical marijuana, he said.
State penitentiary COVID-19 cases among staff lead to modified lockdown
"It's just a foot in the door for the marijuana industry to get into the state and then desensitize the population to the use of marijuana," he said.
As a result of the challenge, the Supreme Court on a 5-2 ruling reversed the opinion of Secretary of State Bob Evnen to put medical marijuana legalization to a vote of the people in November.
Department of Health and Human Services to begin shift of juvenile offenders to Lincoln
The organizers of the petition drive — who collected 182,000 signatures when 122,000 were needed, in spite of being slowed by the coronavirus pandemic — said that either by legislation or by initiative petition, they will try again in the next two years.
The amount of money raised to support the petition drive is a matter of public record. Nebraskans for Medical Marijuana had raised $1.7 million by the end of July. Nebraska Families 4 Medical Cannabis reported raising nearly $16,000 by the end of 2019.
The persistent priest: Lincoln activist spends lifetime battling for civil rights, social justice issues
Sept. 11
Elkhorn-Waverly high school football
Flu Shots
September Images 1
September Images 2
September Images 3
September Images 4
September Images 5
September Images 6
September Images 7
September Images 8
September Images 9
September Images 10
September Images 11
September Images 12
September Images 13
September Images 14
September Images 15
September Images 16
September Images 17
Twirl
Balance
Grand Jury
Grand jury reaction
Focus
Sept 11 Taps