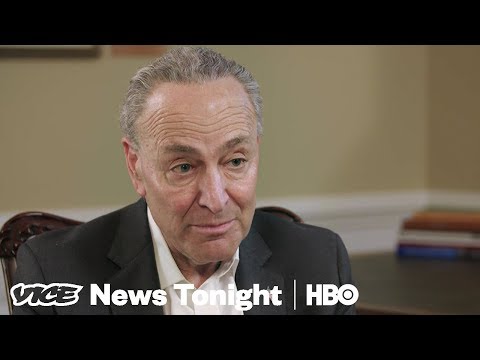 https://cannabisexaminers.com/wp-content/uploads/2018/11/595/hqdefault.jpg

The Minority Leader of the Senate is making it official the day before 4/20: He's down with legal weed.
In an exclusive interview with VICE News, Sen. Chuck Schumer (D-NY) confirmed he is putting his name on legislation that he said is aimed at "decriminalizing" marijuana at the federal level.
For Schumer, this is a shift. While he has backed medical marijuana and the rights of states to experiment with legal sales of pot, what he is proposing is a seismic shift in federal drug policy .
"Ultimately, it's the right thing to do. Freedom. If smoking marijuana doesn't hurt anybody else, why shouldn't we allow people to do it and not make it criminal?" Schumer said.
While Schumer's position in the Senate make his support of de-scheduling significant, he's hardly the first high-profile Democrat to back such a move. Sen. Bernie Sanders (D-VT) has long been a proponent of removing marijuana from the federal list of controlled substances, and Sen. Cory Booker (D-NJ) recently introduced the Marijuana Justice Act, which would federally legalize weed. Republicans, who still control Congress, haven't been as open to the idea, though recent polls have shown a majority of party members now favor legalization.
The legislation, which Schumer's office expects will be released within the next week, has six main points. First, it would remove marijuana from Drug Enforcement Administration's list of controlled substances, which would end federal prohibition and leave it up to states to decide how to regulate the drug. Schumer stopped short of calling it legalization, but de-scheduling would essentially make marijuana legal at the federal level.
His bill would also would create some funding for minority and women-owned marijuana businesses, provide money for research into overall effects of marijuana and it's specific effect on driving impairment. And lastly, it would "maintain federal authority to regulate marijuana advertising in the same way it does alcohol and tobacco," which Schumer said is to make sure marijuana businesses aren't targeting children with their ads.
Schumer went further saying that he would support legalization in his home state of New York as well as any other state that wants to move in that direction. "My personal view is legalization is just fine," he said. "The best thing to do is let each state decide on its own."
While this looks like an obvious election year-play, Schumer claimed it wasn't about he looming 2018 or 2020 elections.
"I'm doing it because I think it's the right thing to do. I've seen too many people's lives ruined by the criminalization," he said. "If we benefit, so be it. But that's not my motivation."
When asked if he had ever smoked weed before, Schumer said no, but when pressed on whether he might be willing to try it he said, "Maybe, I'm a little old, but who knows?"
Subscribe to VICE News here: http://bit.ly/Subscribe-to-VICE-News
Check out VICE News for more: http://vicenews.com
Follow VICE News here:
Facebook: https://www.facebook.com/vicenews
Twitter: https://twitter.com/vicenews
Tumblr: http://vicenews.tumblr.com/
Instagram: http://instagram.com/vicenews
More videos from the VICE network: https://www.fb.com/vicevideo