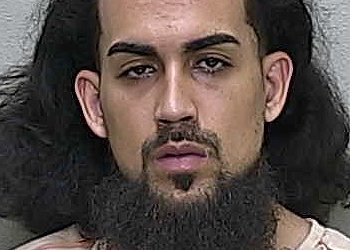 https://cannabisexaminers.com/wp-content/uploads/2020/06/Nathaneal-Santiago.jpg
An Ocala man was caught with a large amount of marijuana after a motorist reported him for driving erratically.
Nathanael Santiago, 27, of 14618 SW 46th Court, was charged with possession of over 20 grams of marijuana and possession of drug equipment.
A citizen called the Marion County Sheriff's Office at around 6 p.m. Monday to report a black Ford swerving all over the road while heading southbound in the 8000 block of County Road 475. The witness continued to follow the vehicle, providing updates of its location as it continued to swerve and drive off the road, according to the sheriff's office report.
The witness followed the vehicle until it reached the RaceTrac gas station at 1525 C.R. 484 and parked at pump #10. A sheriff's office sergeant arrived at the station within a few minutes and observed the vehicle for about 10 minutes before Santiago emerged from the driver's side and put trash in a trash can, the report said.
The sergeant approached Santiago to check his well-being and ask if he was OK to drive. The sergeant's red and blue emergency lights were not activated and it was not a traffic stop. The sergeant immediately smelled a strong odor of burnt marijuana emitting from the vehicle and Santiago himself. He also observed Santiago's speech was slurred and his eyes were watery, according to the report.
The sergeant detained Santiago and requested another unit. A deputy arrived and took custody of Santiago while the sergeant entered the vehicle to search it based on the odor of marijuana. The sergeant found several suspected marijuana cigarettes on the center console and a black zippered bag on the front passenger seat. Inside the zippered bag was a large clear plastic bag containing suspected marijuana buds, the report said.
The deputy took over the search and found rolling papers and a digital scale with what appeared to be loose marijuana on it. The suspected marijuana field-tested positive for THC, the active ingredient in marijuana. The preliminary weight was 28 grams, which amounts to an ounce of weed in street parlance, according to the report.
Santiago invoked his Fifth Amendment right and declined to be interviewed by law enforcement. He was taken to the Marion County Jail, where he's being held on $5,000 bond. Santiago will appear in Marion County Court on July 28.