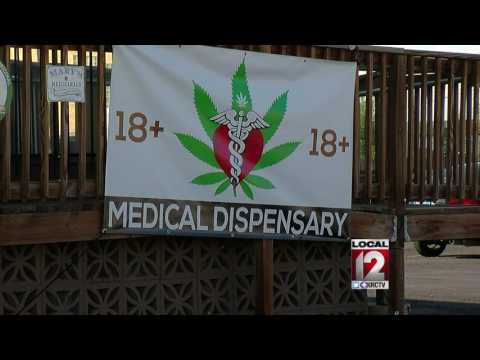 https://cannabisexaminers.com/wp-content/uploads/2019/01/3439/willie-nelson-purchases-local-man8217s-cannabis-business.jpg
CINCINNATI (WKRC) – A Tri-State native who helped get legal marijuana going and growing in Colorado is selling part of his business to a famous musician.
A musician who is well-known for his lyrics, his bandana, and his advocacy for pot. Local 12 News first met Nick Hice in October 2015 at his marijuana grow facility in Denver. Hice grew up in Waynesville, Warren County. His parents had a nursery so a green thumb came naturally.
"We plant them in one of these three inch cubes until we get a really nice root development coming out of these plants," said Hice.
Starting in 2009, Hice and his partners were among the first to grow, manufacture and sell medical and then recreational marijuana as Colorado legalized both. But now, Hice and his associates have sold most of their company to another marijuana pioneer: country music legend Willie Nelson and Nelson's company were the buyers.
Hice said, "And we did want to make sure we found the right person and the right fit to sell the company to, so yeah, absolutely, there is a coolness factor."
Hice said Nelson was committed to working with small farmers, not big businesses, as Nelson markets his brand called "Willie's Reserve."
"You know, Willie Nelson is a very successful man. He didn't need to get into cannabis to make money. He's an activist. He admittedly smokes cannabis for medical purposes. He drinks less, he takes fewer medications, pills due to cannabis. So he's a true activist."
Hice and his partners will keep their Denver Relief Consulting advising others worldwide about how to make green from growing green. But what about Ohio, Hice's home state? Buckeye voters rejected legal pot in 2015, but the legislature recently okayed very limited medical marijuana.
"The program is supposed to be up and running for medical by 2018. I would say chances are by 2020 or so Ohio will be voting on adult use 21 and over," said Hice.
Hice continues on the cutting edge of marijuana legalization. He's involved with a voter petition drive to get on-premises use of marijuana legal for lounges, bars, restaurants in Denver assuming an official neighborhood group is okay with it. That would be a first in the country.
Hice was back in the Tri-State but with his cannabis consulting business, as Willie Nelson might put it, Hice will be on the road again.
Government policy on marijuana is mixed. The Drug Enforcement Agency Thursday, August 11, said pot will remain a schedule one substance just like heroin and cocaine because there was no scientifically proven medical benefit. But 25 states and the District of Columbia have legalized either medical or recreational marijuana or both.
Eight more states vote on some form of legalization in November 2016.