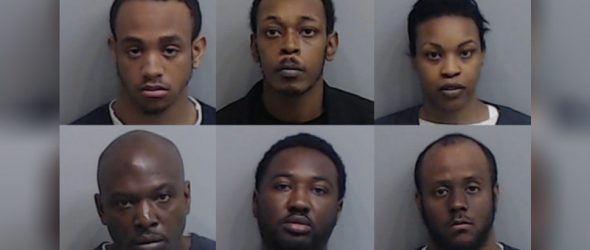 https://cannabisexaminers.com/wp-content/uploads/2020/05/888.PNG_web.jpg
Police released the identities of the six suspects arrested two weeks ago during a marijuana grow house bust in Sandy Springs.
They were taken into custody after a SWAT team raided a house near Ivy Hall Drive in the Spalding Heights subdivision, AJC.com previously reported. At least one suspect remains on the loose, but police are not releasing that person's name. 
RELATED: 6 arrested after marijuana trafficking bust in Sandy Springs neighborhood
On April 21, the SWAT team seized bags full of drug-related evidence, including marijuana, cocaine, ecstasy and other controlled substances, police said.
Here are the names of those arrested, all from Atlanta: Detravious Montez Hicks, 38; James Rashad Holbert, 25; Shiconia Deprice Holbert, 41; Sean Emery Thomas, 43; Johnny Angelo Davis, 36; and Bernardo Vontray Hicks, 38.
All six face two felony marijuana charges, Fulton County jail records show. Bernardo and Detravious Hicks also face a firearm possession charge, with Bernardo facing an additional count of cocaine possession.
Holbert also faces four more drug-related charges, including counts of cocaine possession, ecstasy possession and possession of schedule II and schedule IV controlled substances, jail records show.
Everyone except for Davis was granted bond and was released from jail between April 25 and last Wednesday, jail records show. Their bonds vary between $16,000 and $61,000. Davis was denied bond and remains in custody.
In other news:
Support real journalism. Support local journalism. Subscribe to The Atlanta Journal-Constitution today.
See offers.
Your subscription to the Atlanta Journal-Constitution funds in-depth reporting and investigations that keep you informed. Thank you for supporting real journalism.