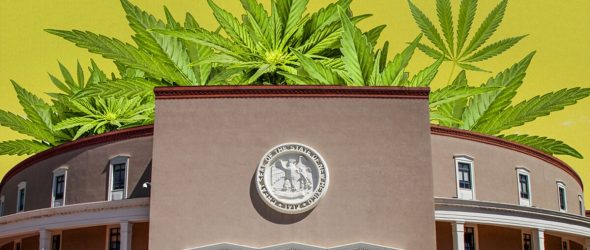 https://cannabisexaminers.com/wp-content/uploads/2020/04/News2-SB-MAIN-Pot-Round-House.jpg
A passing remark about cannabis from the governor in Wednesday's public address promoted the state's recreational cannabis future, but made a dig at New Mexico legislators.  Was it accurate? 
"If there was ever a time for wishful thinking, I wish we had passed medical cannabis because that was $100 million," Gov. Michelle Lujan Grisham said. "Those are pre-COVID-19 estimates, but $100 million in the budget. And I am very sad about that." 
Even though the governor conceded the number was an outdated estimate, there's another key fact to consider.  
Senate Bill 115 died in the hallway outside the Senate Finance Committee. The draft that received a do-pass recommendation from members of the Senate Judiciary Committee, however, had an effective date of July 1, 2020. That bill, along with its House companion House Bill 150, was green-lighted by the governor's own task force on recreational cannabis. 
It was unlikely the state would have seen a single bud of legal recreational weed as of this spring, much less a dime of tax revenue from it.  
And that dollar figure she cited? In a press release the governor's office issued in January, $100 million was the figure ascribed to what "a mature medical/adult-use cannabis industry would generate…in annual revenue for state and local governments." 
State officials are bracing for a big budget revision in the face of oil and gas revenue losses as well as other taxes and fees the state missed out on collecting due to business closures from COVID-19 that began in mid-March. Estimates for the lost extractive industry revenue vary widely, but they start at about $500 million. 
Legislative leaders floated the idea of a special session weeks ago to wrestle with proposed changes to the election code and the budget, but opted not to push back when Lujan Grisham said an in-person session should not take place yet. 
In her livestreamed news conference this week, the governor said she expects the Legislature to meet in mid to late June.
What happens next on the cannabis front is anyone's guess. Should a recreational cannabis bill make it to the call in a session where the state will be looking to increase revenue and cut spending?  
Emily Kaltenbach, executive director of the New Mexico Drug Policy Alliance, says yes.

"She is right, that if we could legalize cannabis in New Mexico, it's not going to solve our budget woes, but it would add to the state coffers," Kaltenbach tells SFR. "We need to be creative and we need to diversify our economy so that we are not reliant on oil and gas, and legalization is one of the ways to do that. So, it's encouraging to hear perhaps we may be more inclined to legalize given the economic situation we are in right now." 
The growers who comprise the state's already robust medical cannabis program could add recreational cannabis production with safeguards in place for patients and still be up and running within six months, she says. 
Lujan Grisham's journey to mentioning marijuana in the middle of a global pandemic was circuitous. She was responding to a question from the Albuquerque Journal's Dan Boyd about how the state would deal with plummeting cash from oil and gas. Here's her whole response, for context: 
"There is no question, and I certainly said that much earlier even than our public health orders, —seeing what was going on just in oil and gas. So, well before March 11th, I signaled, when I was signing legislation. I think I said two things. You know, if there was ever a time for wishful thinking, I wish we had passed recreational cannabis because that would be $100 million," she said. "Now that was before COVID-19, but that would be $100 million in the budget. And I am very sad about that. But I also vetoed, right, because we could already see a decline" in the oil and gas industry revenues. (Watch for yourself at around 1:15:20)
It's a stronger position than the one Lujan Grisham had staked out during the legislative session, though she has never been a recreational cannabis opponent since moving into the Governor's Mansion.
"During a press conference after the Legislature adjourned on Thursday, Lujan Grisham said she will keep pushing for a safe and comprehensive legalization measure, even if it means changing the state constitution. " 
If a majority of the elected seats of legislators approved a ballot measure, the cannabis question could hit the general election ballot in November. It would still require some sort of subsequent enabling legislation.