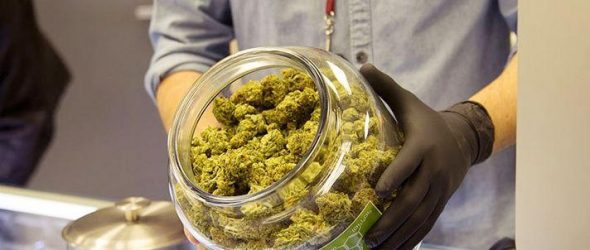 https://cannabisexaminers.com/wp-content/uploads/2020/07/5dd6c8c8c4f15.image.jpg
In this November's general election, Arizona voters could decide whether to legalize recreational marijuana use. A ballot initiative called the Smart and Safe Arizona Act will be on ballots after getting some 420,000 signatures on petitions — unless a court challenge derails it.
A suit recently filed in Maricopa County Superior Court could potentially keep the measure off the Nov. 3 ballot. The suit by Arizonans for Public Health and Safety contends that the act's description misled people into signing petitions.
The initiative would allow people 21 and older to buy and own up to an ounce of marijuana, five grams of concentrate or six plants (12 in a two-adult household). It would also institute a 16 percent tax on marijuana sales, which backers say will produce $300 million a year in revenue that will fund public safety, health programs, community colleges and road maintenance.
Recent survey
A recent survey of 600 likely voters showed more than six out of 10 supporting the measure if it makes the ballot, with 32 percent definitely against it.
The results of the survey by OH Predictive Insights was much different than a poll conducted by the company in December. Pollster Mike Noble said when he asked the question back then, the margin of support was 51-42 percent.
Noble noted that a similar measure in 2016 failed by about 4 percentage points amid an extensive — and expensive — campaign amid claims that adult access would lead to great teen use and more accidents. Foes spent $6.1 million at the time, with much of that coming from the Arizona Chamber of Commerce and Industry.
Graham County Substance Abuse Coalition Director Kathy Grimes fears the poll's prediction will prove true.
"I know it was really close last time, so I feel it may have a chance — especially if people don't take the time to research and find out the pros and cons of recreational use," Grimes said.
Alissa Stockton of Green Mountain Wellness in Thatcher, which carried CBD products, disagrees. Her store also offers alternative medicine and provides medical marijuana certification.
"I don't think the bill will pass. This is a conservative state," Stockton said.
Grimes and Stockton are among the opponents of legalization.
"I feel very strongly against recreational marijuana," Grimes said. "It's proven that marijuana smoke has hundreds of carcinogens. And for young people who smoke it, their brain isn't fully developed until they're 25 and often it will damage their brain because it's not fully developed. They'll end up with mental health issues."
Grimes really hopes people will research the issue before casting their votes.
"A lot of people say it's no different from alcohol, but we know how many people die from alcohol-related accidents a year and how many young people become addicted to alcohol. I feel the same thing will happen with marijuana use," she said. "I'm not telling anybody how to vote but I feel it would be beneficial for them to do their homework. I feel they would find a lot more cons than pros."
Grimes said underage users could get around the act's age requirement by having adults buy it for them, as they do now with liquor. "Some parents will purchase it for them because they grew up in the '70s and feel there's nothing wrong with marijuana. What they don't understand is today's marijuana is totally different from marijuana in the '70s."
According to a 2018 Missouri State Medical Association article, marijuana's THC content has surged 212 percent in recent years. In the '60s through '80s, it was less than 2 percent. The association found that in 2017 some strains in Colorado dispensaries had 17-28 percent THC, the active component of marijuana that produces the "high."
Colorado
"We're not for total legalization because of multiple factors," said Stockton. "It's considered a Schedule 1 drug because it has a hallucinogenic effect if you get above a certain amount of THC in the product. Studies show that your driving abilities decrease when you take a high-THC product. We understand patients want to treat themselves. We're natural medicine people here; we get that and we want them to. But we think it should be regulated. You have to see a doctor to get it, which I think is a good idea.
"People have looked at what's happened with Colorado and other states, and I don't think they want that."
"I was born and raised in Colorado, and I was there when they made it legal (in 2012)," said Nanci Wallace of Green Mountain Wellness. "What they did was tax it really high, which I guess is a good thing because it brought a lot of money into the economy — but it also brought some people in you just don't want to deal with. People were abusing it beyond the way they abused alcohol. So you're seeing people that don't want to work, that have lost any and all desire to be an active part of society. My experience is that people on medical marijuana very much want to be a part of society."
Rocky Mountain PBS reported in July one issue since legalization has been a rising black market in marijuana, with illegally grown weed transported to other states.
The Smart and Safe Arizona Act sets up a fund from collected marijuana sales tax and says that money "must first be spent" on implementing and enforcing the act, imposing and enforcing the tax, administering the fund and processing petitions to expunge past marijuana convictions.
After that, the money remaining will go to community colleges (33 percent); police, fire and sheriff's departments (31.4 percent); the Arizona Highway User Revenue Fund (25.4 percent); a "justice reinvestment fund" created by the act (10 percent); and the Arizona Attorney General's Office (0.2 percent).
Eastern Arizona College President Todd Haynie said that regardless of marijuana's legal status and any funding community colleges might receive, the drug still won't be allowed on campus.
"We will continue to educate students regarding the dangers and consequences of illegal drug use. Any other approach would contradict our mission to prepare students for lifetime success," Haynie said.
Police perspective
"I understand both sides of the argument," said Thatcher Police Chief Shaffen Woods. "I personally don't think the Smart and Safe Arizona Act is a good bill. Like many bills, it's enticingly crafted with promises of tax money for education and other programs — which is undoubtedly needed — but falls short in other areas of administration of the law and opens the door for other problems, in my opinion.
"I think it's a slippery slope and will increase marijuana use among young people, who are very susceptible to negative impacts from drug and alcohol use. I don't see how it will reduce the amount of impaired drivers, and it would make it harder to legally enforce DUI laws. Also, marijuana possession is still a violation of federal law.
"After all these years working in law enforcement, I struggle to find the positive in anything drug- and alcohol-related. That being said, I think this bill or a similar one will eventually pass and recreational marijuana use will become legal sooner or later. I don't think the results will be positive for our state."
Capitol Media Services contributed to this report.