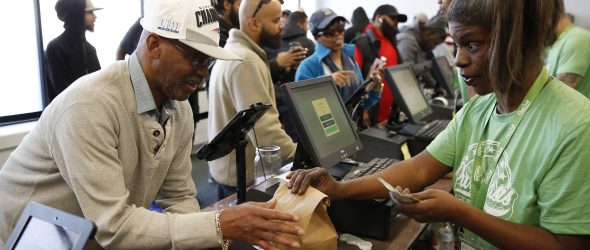 https://cannabisexaminers.com/wp-content/uploads/2020/07/weed-gettyimages-1206446135-scaled.jpg
The Massachusetts law that legalized recreational marijuana was hailed as the first in the nation to create a path for people impacted by the war on drugs to enter the new industry. Four years later, that effort to diversify ownership has fallen way short.
So much so that two members of the state's Cannabis Control Commission have expressed disappointment with the results and called for the Legislature to set up a loan fund to help those applicants obtain start-up money to launch marijuana businesses.
"We have issued more than 70 provisional licenses to the types of business we're trying to encourage, but only three of them have been able to open, only one of them is Black-owned, so of course we have to take responsibility for those statistics after almost three years of doing this," said Shaleen Title, a commission member. "We have to be transparent about what we need in order to change that moving forward."
"We have done a lot to prioritize those applicants to provide training, to reduce application fees and license fees, and we've seen some progress," said Steven Hoffman, the commission's chair. "But the big obstacle seems to be that they can't get financing to start a business."
Critics say applicants who were affected by the war on drugs do need business capital, but not in the form of loans they have to repay with interest.
"When you've been disproportionately impacted, meaning you've sacrificed and invested your life via criminalization … you've taken a financial hit," Shekia Scott, the commission's former director of community outreach, said in a telephone interview with WGBH News. "As a Black, African-American woman who technically, in Boston, has $8 net worth, I would not want to apply for a loan from the government who I feel was an instrumental part in creating and enforcing … the war on drugs."
Scott referred to a 2015 report from the Federal Reserve Bank of Boston that showed the city's native-born Black residents had median wealth of $8, while white residents' median wealth was nearly $250,000.
Hoffman and Title have appealed to state legislators, whose formal session is scheduled to end July 31, to divert into a loan fund 10 percent of revenue from the excise tax on marijuana sales. So far this year, the tax has yielded about $50 million.
Because marijuana is illegal under federal law, Hoffman noted, this discourages banks and credit unions from lending to applicants who lack deep-pocketed investors who can provide capital to start a cannabis business. What would be more helpful than loans, advocates say, would be outright grants.
"Massachusetts prides itself on being liberal, but liberal capitalism still creates systemic racism," said Saskia Vann James, a lobbyist with the Massachusetts Recreational Consumer Council. "Instead of a loan, we need a loan forgiveness program and/or grants."
The council was recently released from its contract with the commission to help people affected by the war on drugs get into the cannabis business. She said the council's criticisms were the same with or without a contract.
Her organization, Van James said, would like to see all cannabis tax revenue go towards bolstering prospective business owners.
"Zero dollars have gone towards areas disproportionately impacted by the war on drugs," she said, pointing to a Boston Globe report earlier this year about marijuana excise taxes, which found most of that revenue went to the commission and addiction treatment.
Earlier this month, the paper found that marijuana operators have paid millions to fund police details outside stores — a fact that strikes a bitter chord with activists who have called for reducing and reaollocating police funding.
Another organization focused on equity in the cannabis industry sounded more flexible on loans and grants.
Richard Harding, with the group Real Action for Cannabis Equity (R.A.C.E.), said grants would be optimal but was willing to accept a loan fund as a way to provide assistance.
"The conundrum is what will the Legislature pass, and also, will it do what's necessary to help these businesses get a footing in the cannabis industry? I know [apart from] where you get the money, access to capital is an absolute must in order to be successful," Harding said in a telephone interview Monday.
"If this were a perfect world and I were king for a day, I would make the money available as a catalyst to getting these businesses off the ground," Harding said. "If this is going to provide access to capital, whether it be low-interest loans or grants, I think that it would be a good thing, but as you know, the devil is always in the details."
Title said it's in the "capable hands of legislators" to decide whether the most effective use of that cannabis revenue is grants, loans, funds for support organizations, or something else.
"All the policymakers are responsible for taking a role in that discussion until revenues are going to communities of color," she said. "My question is, how long are we going to ask communities of color to wait for the benefits they were promised in the law?"
Scott, who left her post with the commission last month, has also called for greater funding for its social equity program, which provides training and technical assistance. She said its budget has been $300,000 a year.
The legislation Hoffman and Title support also calls for the creation of a separate fund that would go to the social equity program. That fund would be financed by diverting a portion of the application, license and renewal fees that cannabis establishments pay the state.