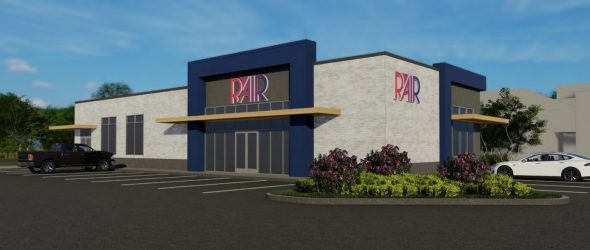 https://cannabisexaminers.com/wp-content/uploads/2020/07/1596047976_rawImage.jpg
Would be city's third medical pot shop
Published

BIG RAPIDS — A medical marijuana business is eyeing Big Rapids as its newest location to set up shop.
RAIR Systems — a medical marijuana provisioning center — applied for a site plan review for a new commercial building, at 702 Perry Avenue in Big Rapids, in front of Dunham's Sports.
Big Rapids planners discussed the site plan during a recent meeting.
"The applicant has a long-term land lease with the owners of the Dunham's Sports building and intend to construct a new retail building for their marijuana business," according to minutes from a July 15 Big Rapids Planning Commission meeting.
Patrick Frakes, of RAIR Systems, spoke on behalf of the applicant — Kevin McFadden — and explained that the new almost 4,000-square foot commercial development would be upscale, the minutes state.
"Their company is in real estate development, with over 1,000 buildings across the country. He also articulated their company philosophy regarding being a marijuana business that is invested in the community and prioritizes education and safety in the consumption of cannabis," according to the minutes.
There was no public comment on this topic. However, the staff received two phone calls about the project from nearby properties.
The calls were from people who wanted to know more about the project, saying they had no concerns about the new development.
Questions discussed during the fact-finding segment included what the development timeline would be, the company's other marijuana stores around Michigan and how much traffic would generate and affect the traffic on Perry Avenue.
Commissioners also expressed concern over traffic flows within the larger, multi-parcel parking lot when the new building is developed, but discussed that this valid concern is not pertinent to the approval of this project.
Though RAIR still has a few steps to go through before they can open shop in Big Rapids, Frakes said they hope to begin as soon as all approvals are complete, with a goal of the store being open within 12 months.
After discussion, the planning commission voted to approve the site plan review.
As well as hoping to open in Big Rapids, Frakes said RAIR is expanding to five locations in West Michigan, including Reed City.
They also have an aeroponic growing operation in Jackson.
RAIR would be Big Rapids' third medical marijuana dispensary to open. The other two include Lume Cannabis Co., which opened in downtown Big Rapids in March. Premiere Provisions, located on Perry Avenue, opened its doors earlier this month.
KKind, the city's sole recreational marijuana shop, opened its store on South State Street in June.