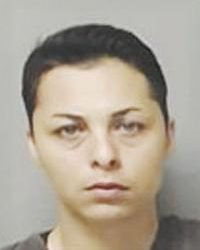 https://cannabisexaminers.com/wp-content/uploads/2020/09/5f57fd79cbd78.image.jpg
JONESBORO — A traffic stop on a speeding motorist in Cash Friday yielded the discovery of 4.4 pounds of marijuana, police said.
Priscilla Ann Duran, 24, who was listed as a resident of Hamford, Calif., was arrested after she passed Cash police officer Ken Boling driving eastbound at 77 mph on Arkansas 226. Cash Police Chief Paul Slagley said Boling initiated a traffic stop at the highway's intersection with Craighead Road 227, east of Cash.
When asked, Duran told the officer she had a marijuana blunt in the console of the car. According to Slagley's probable cause affidavit, she had more than a blunt.
"In the center console, the suspected marijuana blunt was located along with several glass jars containing a green leafy substance believed to be marijuana as well as a plastic baggie weighing 0.6 oz. of a green leafy substance believed to be marijuana," Slagley wrote.
Boling also found five plastic grocery bags containing more of the drug.
Craighead County District Judge Tommy Fowler found probable cause Tuesday to charge Duran with felony possession of marijuana with the purpose to deliver and misdemeanor possession of drug paraphernalia and speeding.
Because police reported Duran indicated she would return to California, the judge set bond at $100,000.
"But I actually live in Jonesboro," Duran said as she protested her bond amount.
Judges typically set the amount of bond based on the probability that a suspect will appear in court. She is scheduled to appear Oct. 27 in Craighead County Circuit Court.