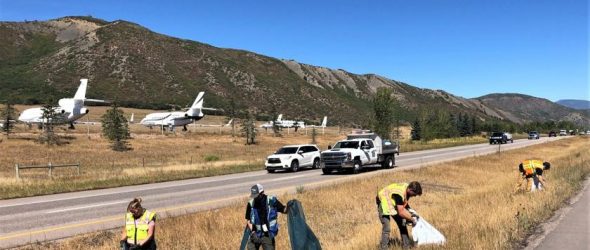 https://cannabisexaminers.com/wp-content/uploads/2020/09/5f58362ae173e.image.jpg
A litter and trash problem on Highway 82 in Pitkin County that begged for attention for several weeks — and was the responsibility of the Colorado Department of Transportation and a cannabis company that adopted a stretch of the roadway – has mostly been resolved, officials say.
County Commissioners Greg Poschman and Patti Clapper spoke during an Aug. 25 work session to the nagging issue of litter and debris on a stretch of highway from the landfill entrance to the Buttermilk area. A discussion among elected officials and county staff at the Zoom meeting led to abundant questions, followed by behind-the-scenes activity, as to who was responsible for the growing mess.
As interested parties were diving into the issue, others were getting their hands dirty. A crew of 13 volunteers, all employees of the Aspen-Pitkin County Airport, with assistance from Deputy County Manager Rich Englehart and Commissioner Greg Poschman, picked up 113 bags and 1.5 truckloads of litter and debris on Sept. 2 along a stretch of highway, including the median, which runs the length of the airport property.
That cleanup effort last week was followed up by another one from Adopt a Highway Maintenance Corporation, the party that is under contract by CDOT and cannabis purveyor Dalwhinnie Farms, covering other littered areas east and west of the airport, according to Brian Pettet, the county's public works director. Dalwhinnie has a growing operation at its 210-acre ranch in Ridgway and a yet-to-open retail shop at 108 S. Mill St. in downtown Aspen.
All of the attention to the matter has led to a promise from the highway maintenance corporation to work with CDOT's new Clean Colorado program to increase the number of times Highway 82 is cleaned, according to an Aug. 28 email from Pettet to other county officials. Clean Colorado is a relatively new program and not the same as the state's longtime Adopt a Highway program, despite the name of the corporation handling the work under the Dalwhinnie sponsorship.
The corporation's records show that its crews cleaned the section of highway adopted by Dalwhinnie Farms in April, May, June and July, the email says. "The trash bag count for each month was 109, 94, 95 and 44 respectively," it states.
Cleanup during the month of August apparently did not occur, which led Poschman and Clapper to prompt the discussion two weeks ago — and also resulted in the Sept. 2 volunteer effort.
"We will ensure highway clean up occurs next week and we will be working to increase the number of times the highway is cleaned, as well as, on a more regular basis during construction season," says Pettet's email. "Additionally, the (landfill) will be reissuing its 'Cover Your Load' public outreach campaign today."
Officials had been considering a Pitkin County employee highway clean-up day to tackle the matter, but that's no longer necessary given the recent efforts, Pettet's email suggests.
Poschman has been openly upset about the lack of cleanup and also the many signs dotting the highway in Pitkin County that state, "Clean Colorado: Sponsored by Dalwhinnie: Colorado Cannabis." To him and Clapper, the signs are billboards, which are supposed to be banned in Pitkin County.
County Manager Jon Peacock was looking into the signage issue as far back as December and expressed his concern with an email to CDOT Commissioner Kathy Hall of Grand Junction, whose district includes Pitkin County.
"Our specific issue is with signs that have popped up on Highway 82 in Pitkin County advertising a marijuana business not even located in our community," the Dec. 18 email says. "CDOT's new Adopt a Highway program was set up to provide a vehicle for businesses to advertise themselves in return for fees that would then be used for cleanup (in our case, $694 a sign and $440 a month per mile)."
While Peacock said the county appreciated the public-private partnership to keep the highway right-of-ways clean, he said implementation of the program within the county was problematic for several reasons.
All of the signs, he said, advertise a marijuana business, and outdoor advertising for such businesses is generally prohibited by state law. Also, Peacock wrote, the community is trying to discourage the use of marijuana, tobacco, alcohol and drugs among youths.
"Clearly, CDOT throwing the credibility of state government behind advertising for a marijuana business works against these goals," he said.
The highway cleanup and signage issues again popped up at a county work session on Tuesday.
"We're trying to take care of this situation which should be handled by CDOT and Dalwhinnie," Poschman said. 
He also expressed his dismay that while the volunteer cleanup was underway last week, motorists were driving at unsafe speeds, failing to recognize the workers on the highway shoulder and median.
Commissioner Kelly McNicholas Kury said she was somewhat disappointed with the new CDOT program given the amount of trash county volunteers had to pick up on their own and the signage that disrupts views from the highway.
Officials vowed to continue to explore that signage matter with the state transportation department.