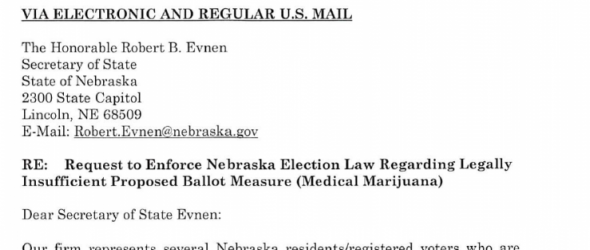 https://cannabisexaminers.com/wp-content/uploads/2020/08/aScreenshot 2020-08-26 17.08.36.png
A last-minute challenge is attempting to keep an initiative to legalize medical marijuana in Nebraska off the November ballot.
---
The challenge comes from Lincoln attorney Mark Fahleson. In a letter to Nebraska Secretary of State Robert Evnen, Fahleson says the proposed state constitutional amendment violates the constitution's single subject rule, is confusing, and would create serious doubt as to what would be legalized.
 Those first two grounds are similar to what Evnen cited in announcing Tuesday he intends to keep an initiative legalizing casino gambling off the ballot. In his letter, Fahleson argues the marijuana proposal would not only legalize medical cannabis, but would also separately allow people to grow and sell cannabis to authorized users. He also  argues that there is no definition of the "serious medical conditions" that would be authorized for treatment.
Attempts by NET News to reach Fahleson were not immediately successful.
Sen. Adam Morfeld, a leader of the effort to put the proposed amendment on the ballot, dismissed the arguments against the language of the initiative.
"We crafted this based off prior Supreme Court precedent, including the most recent Medicaid expansion ruling by the Supreme Court. And we are confident it is constitutional and over 190,000 Nebraskans signed petitions to put this on the ballot, and it should be on the ballot," Morfeld said.
The secretary of state's office said his goal is to announce his decision about whether the initiative should go on the ballot on Thursday.