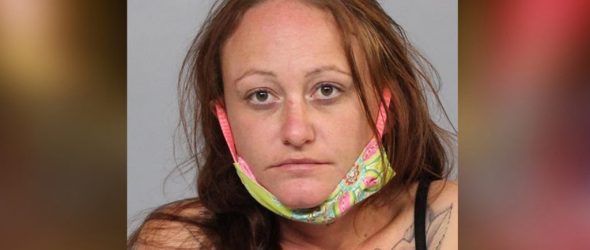 https://cannabisexaminers.com/wp-content/uploads/2020/05/Kayla-Moody-courtesy-of-the-Natrona-County-Sheriffs-Office-scaled.jpg
CASPER, Wyo. —  A Laramie County woman was arrested and is facing felony charges in Natrona County, after being accused of having multiple suspected drugs at a BLM campsite near Casper.
Kayla Ann Moody, age 32, was arrested on Sunday May 3, 2020. During an initial appearance in Natrona County Circuit Court she was charges with three counts of Possession of a Controlled Substance. Supporting documents filed in the court identify the substances as methamphetamine, heroin, and marijuana.
Deputies with the Natrona County Sheriff's Office say that Moody was originally contacted by a Bureau of Land Management Ranger, who alerted dispatchers that a person with Moody was a convicted felon, and firearms had been found at the campsite.
NCSO was dispatched to the campsite approximately half-a-mile south of Wyoming Highway 220, in Natrona County. Rangers told deputies that they believed the campsite was in violation of several BLM regulations, and they contacted the campers. Rangers also reported that when approaching the campsite, a syringe was found on the ground.
The criminal investigation was taken over by the Natrona County Sheriff's Office. Court papers indicate that BLM Rangers are not allowed to arrest individuals for non-violent crimes, without approval from a US District Attorney.
During the contact, deputies say that Moody admitted to having controlled substances at the campsite, an affidavit quoting Moody as saying "a little bit of meth and weed and heroin." She also reportedly told investigators that all of the drugs at the campsite were hers. Moody's companion also told deputies that the controlled substances belonged to Moody.
Court papers say that the companion was found to be a known felon, however Moody also claimed ownership of firearms found at the campsite, saying that her companion had not taken possession of them at any time. Moody's companion also told deputies they had not taken possession of the firearms.
The firearms collected were reportedly a Stoeger Coach 12 Gauge Shotgun and a Taurus G2s 9mm. Magazines and ammunition were also found.
Deputies report finding several items of paraphernalia, containing suspected controlled substances and residue. It was also reported that approximately 4.2 grams of suspected methamphetamine, approximately 3.8 grams of suspected heroin, and 0.11 ounces of suspected marijuana were also recovered.
Moody was taken into custody and was transported to the Natrona County Detention Center. She made her initial appearance in Natrona County Circuit Court on Monday, May 4, 2020.
The firearms found at the site are still under law enforcement investigation.
All of those cited or arrested are presumed innocent until convicted in a court of law. Charges are subject to change following official filings from the Natrona County District Attorney's Office.
Related Stories from Oil City News: