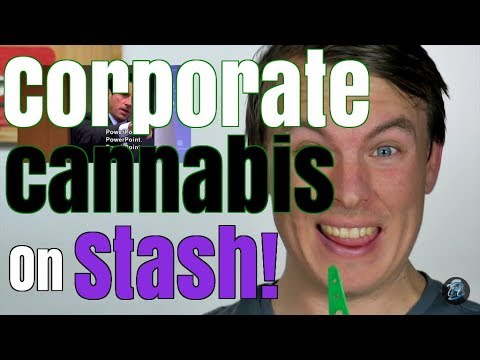 https://cannabisexaminers.com/wp-content/uploads/2018/11/1729/corporate-cannabis-on-stash-season-2-episode-24.jpg
This is our Etsy Store: https://www.etsy.com/shop/TheCreativesCorner
For The Love Of Subtitles: http://paypal.me/coackeithbridgeforth
Corporate Cannabis Released On Stash..
My thought long term.
Right now it's extremely risky business.
First of all make sure that it's okay with your employer before investing.
Second if you are in the military… It's not okay to invest. But still contact legal if you don't believe.
The industry is super shaky right now. However, that rick that you are betting on is the legality of it.
If it become legal then you may miss out on the huge increase….
Long term, I think it will become accepted however, This will not be without bumps and setbacks.
Recommend Books:
Good stocks cheap – http://amzn.to/2EvFMLP
Principles – http://amzn.to/2syDNAB
Intelligent investor – http://amzn.to/2HigiPv
All About Dividend Investing – http://amzn.to/2EyimFy
Psychology of investing – http://amzn.to/2HhzBc1
Sound & Video Gear:
Panosonic G7 – http://amzn.to/2CoWpmq
LG V20 – http://amzn.to/2HjJyWi
Blue Yeti – http://amzn.to/2Hjhoun
Thanks for your support!
Email: keith.bridgeforth@gmail.com
Give Stash Invest a try! It's a easy way to start investing. Plus,we both get $5. Message me if your interested and I'll shoot you my link. I'm working on my stash app review right now. Here is a video to the Stash app information: https://youtu.be/kE6ARxWj-b8
I trade on the robinhood trading account app. If you would like more information on the app feel free to message me. I'm currently working on producing a Robinhood app review. But for now here is the link to a informational video on robinhood. https://youtu.be/ckbRWmygcMg
Start investing with Acorns today! Get $5 when you use my code, message me if this is something you would like. I plan on making a acorns app review later this year. But for now this is a informational video about acorns: https://www.youtube.com/watch?v=8JcRCpyxTa0&
I am earning cash at InboxDollars and you can too! Message me if you would like to use my link. I made a review using this app: https://youtu.be/VF0sMR53l4A
This year I have set out to make 104 Videos in 2017. I know that I am going to reach this goal and pass it.
Why: I'm going to build a platform in which I can help the most people with my time.
I thrive on helping people!
My hope is this year we will all grow closer together and get to know one another. If any of you need help reach out to me.
I appreciate each and everyone of you… Thanks!
I want to put out some content for all my subscribers. I've been swamped with other work, promoting on twitter, facebook, snapchat, instagram.
Ultra Bros link:
https://www.youtube.com/channel/UCsRPIZnGGydngBCTv7MMN4g
I AM IN NO WAY A PROFESSIONAL; PLEASE USE YOUR OWN JUDGEMENT WHEN BUYING AND SELLING STOCKS, PRECIOUS METALS, CRYPTOCURRENCY. I AM NOT RESPONSIBLE FOR THE GAINS OR LOSSES THAT YOU MAY EXPERIENCE.
THE MARKET IS EXTREMELY RISKY, YOU SHOULD ONLY INVEST WHAT YOU ARE WILLING TO LOSE.