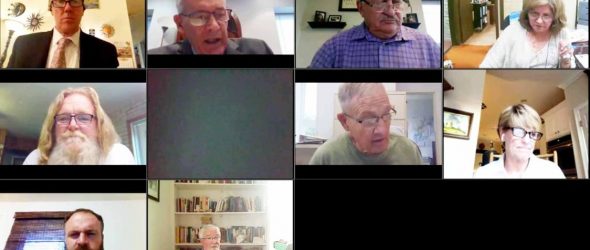 https://cannabisexaminers.com/wp-content/uploads/2020/06/5ed97a7da6b50.image.jpg
At Trinidad City Council's regular meeting on Tuesday, June 2, council members moved to approve the expenditure of Marijuana Revenue received by the city for the first quarter of 2020. According to Mayor Rico, the city received $850,560 with $594,525 in expenditures.
The remaining $256,043 was decided to be put back into the community with $129,476 going toward the city's contribution portion to finish out the animal shelter and 129,475 going towards the Space to Create commons area.
"These are both projects that we're going to need to fund eventually," City Manager Mike Valentine said. In light of the financial difficulties many communities are facing, councilmembers said they felt fortunate that the city had the extra funds this year to be able to use.
"I'm grateful that we have a revenue stream to fund those projects," Councilmember Aaron Williamson added.
Also at the meeting, an ordinance allowing for the electronic attendance of city council members was again presented, this time in it's second reading. The ordinance would allow council members to still attend regular meetings and work sessions virtually if something came up that required them to be out of town on a council meeting day.
"This ordinance would allow council members to appear virtually as we have indicated," said City Attorney Les Downs. "That is for when council is coming back together and meeting in person."
Previously, Downs had explained that there were boundaries established within the ordinance that prevented the option to attend virtually from being abused by any member of council.
With no further discussion from council or publicly, the ordinance's second reading unanimously passed.
With Anthony Mattie stepping down from his seat recently, this left a city representative vacancy with the South Central Council of Government board.
Both councilmembers Aaron Williamson and Erin Ogletree were interested in filling Mattie's position on that board and after a vote, decided on Williamson to step into that position.
In order to vote on the applicants for Mattie's remaining term, Downs explained there would be separated two councilmembers to a floor to keep socially distanced but still all be able to be present at City Hall for the process. Mayor Phil Rico would sit in the council chambers and Downs would video each applicant's interview with his tablet via GoToMeeting, an online meeting platform, in order for other councilmembers to ask questions and participate in the interview.
With the process approved, the city began advertising that applications would be accepted through June 11 the very next day, Wednesday June 3.
Council also discussed plans and looked at a couple of bids for getting some of the city's parking lots and a few other areas into compliance with ADA. There would also be more parking lot striping on Main Street and several other lots and roads.
Public Works Director Tom Beach said the striping would include clearing up the intersection of Main and Santa Fe Trail and also said they have been evaluating the big parking lot at the community center near the swimming pool and would be adding some lines to make that area safer.
"We're going to come in there and delineate that to separate that from the parking lot," said Beach, "to try to keep some of the people from cutting across the property at high rates of speed when the community center is open or the swimming pool is in operation."
During council reports, Councilmember Karen Griego asked if there was a possibility for the city to close off portions of Main Street and extend lights to try to draw more people downtown and provide more space outside for restaurants. Several other small communities have had success with this method, Griego added.
"I think we need to really, seriously consider that," said Mayor Rico. "From my perspective, anything that we can do to help these restaurants, I think we need to do what we can."
Valentine stated city staff would look more into the regulations on closing off streets to see if it was a possibility. Griego also said she had received calls from several parents wondering if the pool would be opened this summer at all.
Valentine said as of right now, the city is using this time to reseal the pool at the community center and that project is set to be ongoing until July as well as having to hire staff and wait for the health department's ok.
"Right now, I apologize to all the kids, but it doesn't look good," said Valentine.