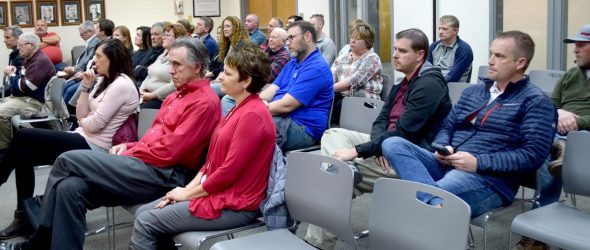 https://cannabisexaminers.com/wp-content/uploads/2019/11/5dd4b1af2a015.image.jpg
EFFINGHAM — Recreational cannabis will be sold in Effingham next year.
In a split vote, the Effingham City Council approved Tuesday allowing the sale of adult-use recreational cannabis in the city after several lengthy discussions and public input.
Effingham Mayor Mike Schutzbach and Commissioner Merv Gillenwater, both with lengthy law enforcement backgrounds, voted to prohibit the sale of recreational cannabis, while Commissioners Libby Moeller, Larry Micenheimer and Hank Stephens voted not to prohibit the sale, thereby allowing it in 2020.
Schutzbach said before the vote the community needed more time to best prepare for legalized sale of pot.
"We don't have to be the city that enables," said Schutzbach. "(Let's) design how this issue fits our community – on our terms – not those hungry for a profit. What is our hurry?"
"If cannabis is here to stay, this isn't going to be the last chance to legalize it," he said. "We can always come back after we see the impact on other places."
He said negative effects are possible in allowing recreational sales in a community.
"There is a cost to legalization," said Schutzbach. "It could be additional auto accidents. Workers' productivity may decrease or work site injuries may increase. We all know smoking causes cancer and vaping is killing us."
Gillenwater said he's listened and studied information presented at council meetings and other public presentations, even from those involved in the sales.
"It appears that many are willing to ignore much of the information concerning the negative effects marijuana has on individuals in our society — just for the cash to be made. I cannot be among that group. I cannot vote to allow this drug in Effingham."
Stephens said whether Effingham allows the sale or not, it will be here and the issues that surround it will be here, too. This is a time to use the regulation and benefit the community from taxes and use those tax dollars appropriately, he said.
"We have 44 liquor licenses, 33 gaming stations and we have the social issues that go with that," said Stephens. "We accept the tax dollars that we get from those and we use those dollars for law enforcement and other things — so it occurs to me to say 'no' to cannabis is inconsistent and a bit hypocritical."
Micenheimer said many are in denial about how much cannabis use is already here.
"Now is our chance to step forward and embrace this new law," said Micenheimer. "We need to regulate it and tax it and hopefully eliminate the black market."
Moeller said it's time to jump on board.
"We're damned if we do, and damned if we don't," said Moeller. "We've all done a lot of research and listened to a lot of people. It's here whether we like it or not."
Prior to the vote, a divided group of people spoke.
Susan Lorenz of Effingham was one who spoke in favor of the sale of adult-use recreational cannabis at Tuesday's meeting, stating that not allowing the sale would cause her to spend her money elsewhere.
"I will be driving to another town and to make that drive worth my while, I'll probably be spending my grocery money, my gas money and other discretionary spending out of town," said Lorenz.
She also added that this is a regulated business that allows one to purchase the product to be consumed at home. However, she noted that there are other businesses in town where one can consume alcohol and then drive home – such as restaurants, bars and wineries.
"In my mind, a business that sells a product that is taken home for use is less of a nuisance and less of a safety issue than the number of bars, restaurants and wineries that we have that sell alcohol," said Lorenz.
Prior to the vote, Green Thumb Industries associates told the council they've been good neighbors in Effingham for the past three years with the medicinal cannabis store, The Clinic Effingham, and would continue to be if the city voted to allow the sale of recreational cannabis. They also said they've transitioned into recreational use in two other states and believe it will be a seamless transition here.
Dina Rollman, senior vice president of government and regulatory affairs with GTI, said the company wants to be a positive, not a detriment to the city.
"We have seen this transition before – from medical to recreational – and it is different, but it is something we know how to do," said Rollman. "Our intent is to make that as seamless as possible. We are a highly regulated industry. We comply with state laws."
On Oct. 1, with the same-site state license in hand, the local medical cannabis dispensary made a formal request at City Hall to allow the sale of recreational cannabis for adults. GTI's conservative estimates yield a range of $391,000 to $1,094,000 in tax revenue for Effingham.
Beecher City resident Jay Bell, a 24-year veteran in the military, believes that having recreational cannabis would be good for those who don't want to jump through the hoops and incur the costs of obtaining medical cannabis cards. Plus, the tax dollars alone would be a boost for Effingham, he added.
Rob Ratliff, of Lerna, a retired Mattoon fireman and former EMS personnel, urged Effingham officials to take advantage of the revenue sales could bring.
"City councils are budgeting numbers — things are getting tighter and things are getting worse," said Ratliff. "This is something that will help you guys. That's going to help you."
Ratliff said folks are going to buy the product in another town and bring it back to Effingham anyway.
"You guys (have) a thriving town," said Ratliff. "I've seen what you are doing in Effingham. I come here a lot. Mattoon is going the opposite way. You need to keep up with that. I think it is great."
He added he's never seen an overdose on cannabis during his 28 years in EMS work.
Others attending the meeting voiced their opposition to the sale of adult-use recreational cannabis.
Vicki Wenthe has attended several meetings and said she is opposed to recreational use, but is OK with the medical side of the business.
"I do understand the sale would make a profit for the city and it would benefit us financially. However, the negative impact is not worth it to this wonderful community," said Wenthe. "We don't need to be the first one to jump on board with. We could wait and see the results around us and see what happens. If it is going to be sold here, we need to give it more time to agree to this so various agencies can be prepared."
Another citizen, William Percival, said he was worried about the youth in the community and didn't feel this would be a good idea for future generations. There is enough drugs coming through on the interstates, he said.
Dr. Jeff Crowell, a family physician in Effingham, said there are consequences to cannabis use and a misconception that the drug is safe. He added the dispensaries don't always educate their clients properly.
Crowell presented some details of a study done at the University of Colorado School of Medicine in 2017 in obstetrics that shows the use of cannabis should not be encouraged or used during preconception, pregnancy or lactation. But, he cited, some dispensaries will recommend use during pregnancy,.
"The real victim of cannabis use in pregnancy is the unborn children," said Crowell.
Along with the sale, the council approved a 3 percent sales tax on the product. They plan to address a personnel policy regarding use of cannabis for city employees.
The next step is to determine where the establishment can be located with the city's zoning. Schutzbach said the city staff is being directed to determine where recreational cannabis can be sold of which the city council will have final approval.