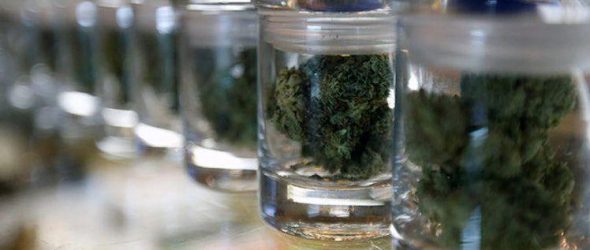 https://cannabisexaminers.com/wp-content/uploads/2020/06/5ef136e270ce9.image.jpg
Strong online sales are a bright spot for the industry
While COVID-19 has slowed down countless industries and even put a few — such as the tourism industry — to a temporary grinding halt, it's also slowed down the local cannabis industry, making the already sluggish permitting process even slower and making it difficult for new businesses to come to fruition.
Sebastopol grower Mitcho Thompson had construction crews lined up and his final building permit check-off ready to go for his new business Phytomagic, a manufacturing company for cannabis-centric herbal products, and then the coronavirus reared its head and everything froze.
"Things definitely kind of stopped for a little bit and the city (Sebastopol) was only working limited hours, but they did really work with us and it still took a lot longer like several months longer than we had thought," Thompson said. "We started this process two years ago in March and I didn't think it would take that long. It was no one's fault, but it is an emerging industry. We didn't know what we were doing, the state didn't know what they were doing."
Now that the state and the county have slowly started to reopen, Thompson is finally starting construction on his long-awaited project.
"It was a little scary, but things have slowly unfrozen over the last month and construction starts next week," he said. 
While Thompson's business is closer to seeing the light of day, Craig Litwin, principal and CEO of cannabis consultancy firm 421 Group, said many other business hopefuls are still stuck in the permitting and application process.
"A number of hearings that were scheduled were of course canceled and postponed. That slows everything down for the industry," Litwin said. "There are many hours that go into preparing for hearings. Outreach to neighbors and getting supporters to attend and speak up for the project and lobbying decision makers. That's kind of all stopped midstream, so not only does the inertia change, but people are paying overhead for properties either rent or mortgage to sustain their business plans and hopes and dreams."
He said he thinks the growers most impacted are those not under penalty relief.
Penalty relief is a program that was adopted by the Sonoma County Board of Supervisors in 2017 to allow certain cannabis businesses to continue to operate without land use fines while their permit applications are being reviewed, or while working to bring their operation into compliance with the county cannabis land use ordinance.
"Without a permit for 2020 one has to wait and if they're outdoor for example, until 2021. That is a difficult road to hoe in the farming world," Litwin said.
He noted that missing out on an entire growing season can be a potential "fatal financial impact" for entrepreneurs.
When asked how the industry will be affected financially as a whole, Litwin said it is still too early to tell.
The positives
While Thompson said the last few months have been a challenge, he and Litwin said the way dispensaries have had to pivot to meet customers online, and the increased demand for cannabis, are silver linings.
"I think the pandemic is probably affecting them (small growers) more than the dispensaries because they have no way to actually have their medicine purchased. It is pretty limited, and even the dispensaries have had to change the way they're operating," Thompson said.
When the county shelter-in-place order was issued in March, dispensaries were included in the list of health care operations that could remain open, according to county order, however, cannabis businesses have had to shift to meet customers' needs from home.
For instance, Sparc (located in Santa Rosa and Sebastopol) and Mercy Wellness (which is located in Cotati, but delivers to various cities throughout the county) now have live online shoppers that can virtually help folks who have never been to a dispensary and need guidance, or those who may not be computer savvy, purchase products.
Thompson said despite the changes that COVID has caused with doing business, online virtual shoppers may be a smart tool for dispensaries to continue using.
"They can actually talk to someone live where someone is chatting and showing them the products and helping them decide which products would work for them and I've never seen that before so that is actually pretty cool," Thompson said. "I think the industry may be moving that way, which is a really great thing for older folks, or folks who are really not mobile."
Litwin agreed that online sales may be a successful way forward in the industry.
"There are many success stories through the pivoting of the majority of sales being done virtually and that's great and not just for this industry, but for every industry. We're watching all businesses needing to quickly evolve to meet the consumer where they are at in their home," he said.
Elyon CEO Ron Ferraro said while things have started to open back up, people are returning to dispensaries, but online and delivery services have increased significantly.
"Now that it's (COVID-19) leveling off, people are starting to go back to dispensaries, but online retail and delivery services definitely have increased significantly," he said. "We are wholesale distributors, we cultivate and distribute brands so we sell to all retail outlets from dispensaries to delivery services."
Ferraro said since the pandemic started people have also been relying on delivery in addition to online shopping.
"Ever since COVID, it looks like more people are doing ordering and delivery and sales have stayed strong. Overall I would say that more people are ordering from delivery services and delivery services definitely increase business. Once COVID hit we started targeting some of the bigger delivery services," he said.
But does he think online and delivery will be the way of the future for purchasing cannabis?
"I still feel like there's an excitement when you go to the store and you have an interaction with the budtenders … There is still something to be said about going to the dispensaries and speaking with the budtender, trying different things and seeing what's new rather than just ordering something online," Ferraro said.
He said he doesn't think online retail will eliminate dispensaries, but that it may open a pathway for more deliveries.
"For instance, the city of Santa Rosa has no delivery services and we have a center there that we didn't want to get into that retail dispensary business, but we have a lot of consumers in Sonoma County because we are Sonoma grown and we always wanted to do a delivery service but the city of Santa Rosa banned it. Now it looks like cities and counties are going to start opening up more delivery services so I definitely see a trend," Ferraro said.
Karli Warner, the co-founder of Garden Society, a Cloverdale-based company that delivers and produces cannabis products throughout Sonoma and Napa counties, also reported an uptick in online sales and deliveries.
Garden Society, which is targeted towards woman and those who are "canacurious," specializes in cannabis-infused chocolates and pre-rolled full flower rosettes.
"It's definitely been a little bit of a roller coaster," Warner said. "The week that shelter in place went into effect there was the whole rigamarole with cannabis not being deemed essential and then being deemed essential, so as soon as it was deemed essential then we saw pretty big orders and then in the weeks following it definitely went down a bit. I think people were getting used to shelter in place, they had made decent sized orders."
Sales also went up after Garden Society partnered with an assortment of other women-owned brands such as Juna, House of Saka, Sonder, Kikoko and Sweet Releaf, to offer additional cannabis products such as tinctures and topicals.
"We have their assorted products, a tincture because we don't have a tincture, beautiful topicals from Sweet Releaf. These are things that in doing our in-home parties in Sonoma and Napa counties we discovered the product desires that these women have, and so taking that information and looking at where our products have gaps, we filled it in. That actually saw a lift (in sales). I don't know if it was due to adding those products, but we did also see a lift after that, which has been great and has been harmoniously bringing together different women brands in the industry, so that's been really fun and interesting," Warner said.
Warner added that their rate of marketing emails opened has also gone up.
"Our open rates are definitely increased as well because people are home and they have time to maybe read a marketing email that they maybe otherwise wouldn't read," she said.
Warner said while it's too early to tell if online sales and deliveries will be the way of the future for cannabis sales, she thinks people's purchasing habits will change.
"It will be interesting. I think we've all been in this long enough where habits are changing. It's hard to say for sure, but I do think that habits are going to change. I think maybe it opens the door to customers that aren't otherwise comfortable with going into a dispensary yet and so I think that there's going to be an upward trend in delivery," Warner said.