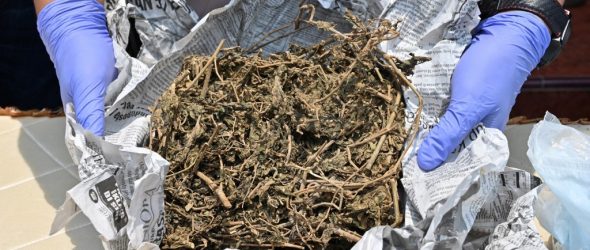 https://cannabisexaminers.com/wp-content/uploads/2020/06/2020_02_06_86156_1580983277._large.jpg
The Kupang District Court in East Nusa Tenggara (NTT) sentenced Reyndhart Rossy Siahaan, who used marijuana as an alternative medication, to 10 months' imprisonment on Monday, despite an urge to decriminalize marijuana for medical treatment.
The Advocacy Coalition for Narcotics Usage for Medication condemned the court's decision, saying that Reyndhart, who consumed marijuana to relieve pain caused by spinal cord compression, could be excluded from punishment as set out in Article 48 of the Criminal Code. The particular article stipulates a restriction on charging people who commit a criminal offense in an emergency. 
The 37-year-old man was arrested in November last year at his rooming house in West Manggarai regency in NTT as he consumed boiled cannabis water that he found could help ease the pain. He was then charged under Article 127 of the 2009 Narcotics Law, which carries a maximum sentence of one year's imprisonment.
"Learning from Reyndhart's case, he's supposed to be released from any criminal charge," the advocacy group said in a statement on Monday, adding that the case would only show the world that someone could be criminalized in Indonesia just because the country failed to provide the medical treatment he needed.
Read also: Advocacy groups file amicus in support of marijuana for medical use
The group also highlighted that Reyndhart was a "victim" of the country's anti-drug war, which is not supported by sufficient scientific research. It further called on the government to start studying the use of cannabis for medical purposes and subsequently stop criminalizing people like Reyndhart.
"How many more people would be sacrificed under similar circumstances? We definitely need drug policy reform," the group, which consists of the Institute for Criminal Justice Reform (ICJR), Indonesian Judicial Research Society (IJRS) and the Community Legal Aid Institute (LBH Masyarakat) among other organizations, said in a statement on Monday.
The group previously said that at least 50 countries had approved marijuana as alternative medication, with the substance commonly used to ease neurogenic pain.