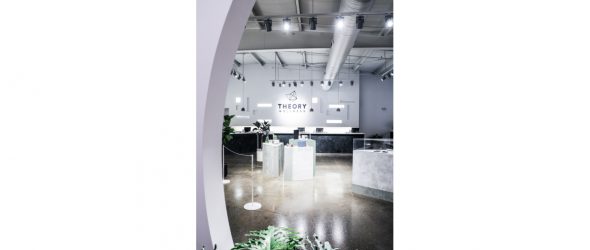 https://cannabisexaminers.com/wp-content/uploads/2020/02/EV1A7626.jpg
CHICOPEE, Mass.–(BUSINESS WIRE)–CS Hudson – a leading firm supporting facilities maintenance, capital projects and immersive retail activations nationwide – is kicking off the year helping Theory Wellness prepare for the launch of its latest design-focused collaboration. Theory Wellness, a vertically integrated craft cannabis cultivation, retail and product manufacturing company, plans to start the new year with the grand opening of its flagship location in Chicopee, Mass.
As the construction and program management firm for Theory Wellness, CS Hudson was charged with building a seasoned team of vendors, suppliers and general contractors to bring Theory Wellness' visionary project to completion. CS Hudson managed the construction project from start to finish including developing budgets, procuring vendors, hosting a competitive bid process and overseeing the day-to-day project management.
Chicopee will first open as a recreational location and later become a medical dispensary. The goal was to create an ambiance where modernist roots meet urban loft with aesthetic touches ranging from sleek weathered concrete floors to custom backlit walls and fixtures. Design elements including string and abstract art, custom hand-painted wall murals and rich plant elements help to enrich the space. Theory's approach to retail sets a tone for the future of what the emerging cannabis industry can become.
"Our goal was to help Theory Wellness create a sustainable and repeatable process by providing a stable of strong vendors, in addition to supporting their designer and architect with the field knowledge required to bring this location to fruition," said Joseph Scaretta, co-CEO and founder of CS Hudson. "We were pleased to see the project through from beginning to end—helping to bring the store from design intent to real life."
The unique and immersive project was led by the unique and distinct vision of the Theory Wellness executive team in collaboration with James Beard award-winning designer Amy Morris from The Morris Project, and brought to life by CS Hudson and a team of skilled vendor partners. The star-studded entourage included BKA Architects, Nash Contracting, Capitol Lighting and Astound Group.
"Working with CS Hudson has helped to make this expansion process as seamless as possible," stated Brandon Pollock, CEO and a co-founder of Theory Wellness. "They brought a wealth of knowledge to our project, managed the entire process impeccably, kept us up-to-date every step of the way, and fully delivered on the scope of the project. We never had any doubt that we were in the best hands with Joe and the CS Hudson team."
Theory Wellness is slated to open in late-February 2020. For more information, visit www.theorywellness.org. To learn more about CS Hudson, visit www.cs-hudson.com.
About Theory Wellness: Theory Wellness, Inc. is a vertically integrated cannabis cultivation, retail, and product manufacturing company headquartered in Stoneham, Mass. They offer medical dispensary retail locations in both Bridgewater and Great Barrington, Mass. and recreational sales in Great Barrington, Mass. and soon Chicopee, Mass. All products are manufactured in their state-of-the-art facility and produced in small batches, which undergo thorough independent lab testing. To learn more, visit www.theorywellness.org.
About CS Hudson: CS Hudson – a leader in experiential pop-ups, shop-in-shops and marketing activations specializing in turnkey services and purpose-built solutions nationwide. Innovative, resourceful, versatile and creative, CS Hudson's experienced professionals are renowned throughout the industry for their expertise in developing, implementing and managing immersive experiential, capital refresh and facility projects within the retail, restaurant, healthcare and commercial sectors. Working throughout the U.S. with companies ranging from start-ups to Fortune 500s, CS Hudson provides a tailored approach to meet the needs of its clients, all with unique concepts, brands, budgets, challenges and goals. For more information, visit www.cs-hudson.com/.