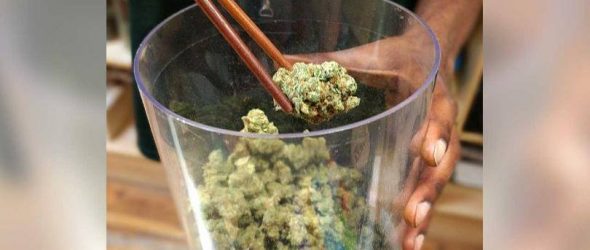 https://cannabisexaminers.com/wp-content/uploads/2020/02/pot+chopsticks.jpg
CHERRY VALLEY, Ill. (WIFR) — "Some of us are saying no to it and some of us are saying this is a great way to make revenue." These are the words of Sally Hollembeak, a long time Trustee for the Village of Cherry Valley. She has been involved in the cannabis sales discussion in the village for several weeks.
(Source: Cannabis Tours/MGN)
She is interested in seeing what these sales could do for Cherry Valley. Hollembeak says, "I'm not ready to say no to it. Because it is my responsibility to raise money for this community and to find revenue sources. This is one and I'm in favor of it."
Cannabis sales in just the first month of legalization generated more than $10 million statewide in tax revenue, with estimates near $28 million for the first six months of the year. Hollembeak says, 'That tells me it's a revenue source, a good revenue source and a good one for Cherry Valley."
But not everyone is convinced that's enough to allow cannabis sales, using the Rockford Sunnyside Dispensary as an example. Nancy Belt, a Trustee for the village introduced an ordinance that would prohibit the sale of cannabis within Cherry Valley village limits. Since legalization earlier this year, this topic has been a discussion among trustees.
Belt says, "They have a lot of parking issues with the other businesses and then the lines of people waiting. I'm just looking at it like wow, Cherry Valley is a small community. Yes we have the CherryVale Mall and other businesses not attached to the mall."
An increased police presence in Cherry Valley is also an issue in Belts eyes. Belt says, "It would be too much, looking into the future of what it would cost our community for overtime, and having to hire full or part time police officers."
While this discussion will continue, trustees know there are both positives and negatives regardless of the outcome. Hollembeak says, "There's both and that's why I'm not ready to say no just yet. I want to see positives outweigh the negatives."
Hollembeak also brought up that CherryVale mall is the biggest source of revenue for the village, saying another source of revenue wouldn't hurt. She specifically says that because of stores gradually beginning to close in shopping malls nationwide.
The Committee of the Whole had a discussion on a different ordinance that would involve taxing any adult-use cannabis that would go on sale in Cherry Valley. The committee passed this and now it goes to the full board for a vote on March 3.
Trustees also discussed the first ordinance on whether or not to even allow cannabis sales. Trustees did not let this go to the full board for a vote at this time and will be discussed further.