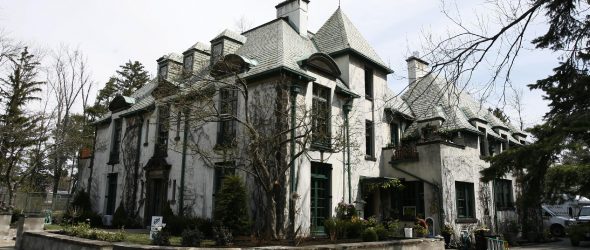 https://cannabisexaminers.com/wp-content/uploads/2019/10/house2.jpg
When Ronald Serio sold his 9,000-square-foot, E.B. Green-designed mansion on Lebrun Road, stories about the sale detailed the home's extravagant amenities, from a movie room and bar to an outdoor pool, Jacuzzi and tennis courts.
Nowhere was there any mention of a marijuana grow room.
Serio, 43, is charged in a new grand jury indictment with planning to grow marijuana in an Eggertsville house many still remember as the first Decorators' Show House from outside of Buffalo.
The 11-count indictment accuses Serio, who manages rental properties in the area, with trafficking in large amounts of marijuana and distributing cocaine, fentanyl and oxycodone.
The charges also include a demand that he forfeit the money he made from last year's $1.15 million sale of the French Provincial mansion. Known as the David Wallace Estate, the three-story home was built on a 2.4-acre site, one of the largest on Lebrun.
In court papers, investigators from the FBI and Erie County Sheriff's Office detail what they claim they found when they first searched the Lebrun house in April of 2017.
They found a newly constructed room hidden behind sheetrock panels, according to the complaint against Serio.
"This room was approximately twelve feet by twelve feet and contained a humidifier and a climate control unit," the court papers said. "The block windows, which view the outside, were spray painted black."
Investigators also found several sealed bags of marijuana and a semi-automatic rifle under a mattress in the master bedroom, according to court papers.
On the same day the Lebrun mansion was searched, investigators searched a house at 91 West Grimsby Road in the Town of Tonawanda owned by Serio.
The papers detail one- and two-pound bags of marijuana found stuffed in duffel bags and plastic garbage bags at the house.
In total, investigators seized 105 pounds of marijuana, as well as bills, documents and a prescription pill bottle with Serio's name on them, they said.
Investigators pointed to two confidential sources who had identified Serio as someone who trafficked in large quantities of marijuana.
"At the time, he had substantial problems," defense attorney Herbert L. Greenman said of his client's drug addiction. "Since then, he's gone through a substantial rehab and he's doing great now."
Greenman detailed his client's addiction to painkillers in response to a question from U.S. Magistrate Judge Michael J. Roemer.
Arraigned on Thursday, Serio entered a plea of not guilty and was released on conditions.
Shortly after his arrest, Greenman filed a memorandum with the court detailing his client's drug addiction.
"It is obvious that Mr. Serio is suffering from a devastating use of opiates and heroin," he said at the time.
On Thursday, he echoed those remarks but indicated Serio was on the road to recovery.
"He's a totally different person," he told Roemer.
Serio is charged with narcotics conspiracy and illegally distributing marijuana, fentanyl, cocaine, oxycodone and oxymorphone.
He is also charged with using the properties on Lebrun and West Grimsby as drug premises, and possessing a firearm in furtherance of drug trafficking.
Purchased by Serio in 2011, the house on LeBrun was previously owned by James Coppola, a founder of Len-Co Lumber, and his wife, Josephine, who lived there for decades.
The property, which includes a carriage house, was designed by Green, one of Buffalo's most famous and prolific architects.
Picked by the Junior League as its Show House in 2009, the house drew an estimated 20,000 visitors.
Serio is being prosecuted by Assistant U.S. Attorneys Paul C. Parisi and Justin Bish.