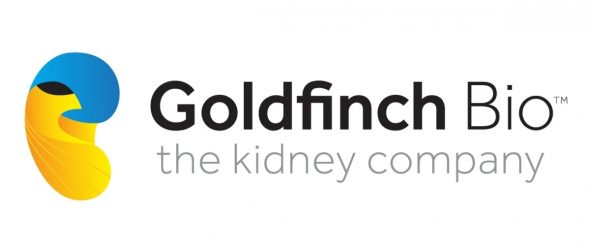 https://cannabisexaminers.com/wp-content/uploads/2020/09/Goldfinch-Bio-Logo-01_(1).jpg
CAMBRIDGE, Mass.–(BUSINESS WIRE)–Goldfinch Bio, a clinical stage biotechnology company focused on discovering and developing precision medicines for the treatment of kidney diseases, today announced that it dosed the first patients in TRACTION-2, a Phase 2 clinical trial evaluating GFB-887 for the treatment of focal segmental glomerulosclerosis (FSGS) and diabetic nephropathy (DN)1. GFB-887 is a first-in-class highly potent and selective inhibitor of Transient Receptor Potential Canonical Channel 5 (TRPC5), designed specifically to treat patients with kidney diseases characterized by overactivation of the TRPC5-Rac1 pathway.
Overactivation of the TRPC5-Rac1 pathway leads to injury of podocytes, which are cells lining the kidney that, in their normal state, prevent essential protein loss (proteinuria). Injury of podocytes causes podocyte loss, proteinuria and, eventually, kidney failure. TRPC5-Rac1 pathway overactivation is the key cause of disease in a substantial proportion of FSGS and DN patients. Currently, there are no approved drugs that target the underlying cause of these diseases.
"Recent scientific advancements provide tremendous insights into kidney biology, enabling the development of precision medicines, like GFB-887, which target the underlying molecular mechanisms of disease in identifiable patient subsets," said Anthony Johnson, M.D., President and Chief Executive Officer of Goldfinch Bio. "Based on our extensive preclinical and human organoid data, in addition to the results of our Phase 1 study, GFB-887 selectively inhibits the TRPC5-Rac1 pathway with the potential to protect podocytes from further injury, stop proteinuria and save patients from kidney failure. We look forward to continuing to enroll patients in this Phase 2 study as we pursue our mission of delivering precision medicines to patients living with kidney diseases."
"Particularly given the ongoing COVID-19 pandemic, patients with progressive kidney diseases are concerned about maintaining their kidney function and interested in exploring new therapeutic options which offer more substantial benefit, with fewer side effects, than currently available therapies," said Joshua Tarnoff, Chief Executive Officer of NephCure Kidney International®, a leading not-for-profit patient advocacy group focused on accelerating research for effective treatments for rare forms of nephrotic syndrome, a type of kidney condition that includes FSGS. "I hear frequently from people living with kidney diseases who are struggling with the limitations of existing medicines. They are looking for new options, tailored to their unique conditions, that go further to preserve their kidney function and help them avoid intensive measures like dialysis and transplantation. The NephCure team appreciates the Goldfinch Bio team's efforts to ensure the safety and well-being of patients and clinical trial site staff involved in this important Phase 2 study."
TRACTION-2 is a multicenter, double-blind, randomized, placebo-controlled Phase 2 trial evaluating the safety, tolerability, pharmacokinetics (PK) and pharmacodynamics (PD) of GFB-887 in approximately 125 patients with FSGS or DN. The primary objective of the study is to assess the clinical activity of multiple doses of GFB-887 over 12 weeks, as measured by percentage change from baseline in urine protein to creatine ratio, urine albumin to creatinine ratio, and 24-hour urine protein/albumin excretion. Secondary outcome measures include safety and tolerability and PK of multiple doses of GFB-887. Additional exploratory outcome measures will include changes from baseline in PD biomarkers associated with TRPC5-Rac1 activation.
Goldfinch expects to report initial clinical data at the end of 2020 or early in 2021, and final 12-week data in mid-2021, subject to the impact of COVID-19. For more information about the clinical trial design, please visit: www.clinicaltrials.gov (NCT04387448).
About GFB-887
GFB-887 is a once-daily, oral TRPC5 ion channel inhibitor in clinical development for the treatment of kidney diseases, including FSGS and DN. TRPC5 is a calcium-permeable ion channel implicated in the pathogenesis of kidney disease. Recent evidence demonstrated that TRPC5 and Rac1, a critical regulator of cellular motility, form a vicious cycle that drives pathogenic remodeling of the actin cytoskeleton in podocytes. Overactivation of the TRPC5-Rac1 pathway causes podocyte loss and breach of the filtration barrier, which leads to proteinuria, the hallmark of progressive kidney diseases such as FSGS and DN. Inhibition of TRPC5 and subsequent suppression of the overactivated TRPC5-Rac1 pathway offers a potential point of therapeutic intervention to restore podocyte integrity and halt progression of these diseases. In a Phase 1 clinical trial, GFB-887 was well-tolerated. Dose proportional increases in drug exposure coupled with dose dependent decreases in urinary Rac1 concentrations were also observed, confirming GFB-887 target engagement and suppression of the TRPC5-Rac1 pathway.
About Goldfinch Bio.
Goldfinch Bio, Inc. is a clinical stage biotechnology company that leverages a genomics-based, precision medicine approach to discovering and developing kidney disease treatments. Its Kidney Genome Atlas (KGA™) is a proprietary biology platform that drives candidate discovery, biomarker development and patient selection. The Company's lead candidate, GFB-887, is a TRPC5 ion channel inhibitor, in Phase 2 development for the treatment of kidney diseases. Goldfinch Bio is also developing GFB-024, a peripherally-restricted cannabinoid receptor 1 (CB1) inverse agonist monoclonal antibody, for the treatment of rare and metabolic kidney diseases and expects to submit an investigational new drug (IND) application in 2021. Goldfinch Bio, headquartered in Cambridge, Massachusetts, was launched in 2016 by Third Rock Ventures and has an established strategic collaboration with Gilead Sciences, Inc. For more information about Goldfinch Bio, visit www.goldfinchbio.com.
---
1 Patients diagnosed with treatment resistant minimal change disease, which is considered a subset of FSGS, will also be allowed into the Phase 2 clinical.