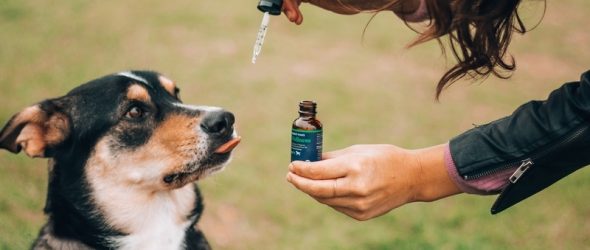 https://cannabisexaminers.com/wp-content/uploads/2020/10/Give-my-pet-CBD-1.jpg
It's a question that has been at the top of many pet owners' minds lately. Fortunately, our beloved dogs and cats have an endocannabinoid system just like humans do. This means our pets can share in the same benefits of CBD as we humans do. While it might not work for every pet, for those that it does, the results can be life-changing.
The market of CBD for pets have taken off at an astonishing speed: The pet CBD category grew 946 % in 2019 according to Brightfield Group, a cannabis market research company. The hurry comes from the passage of the 2018 Farm Bill, which eased federal legal restrictions on CBD products. And some famous names have jumped into the industry. Martha Stewart has announced that she is developing a line of CBD pet products, expected to debut this fall. Boxer Mike Tyson and Cesar Millan, of "The Dog Whisperer" fame, are teaming up on a dog CBD brand, too. Even the reggae-rock band 311, which has a line of human CBD tinctures and capsules, added a CBD oil for dogs.
Now, is it safe to give CBD to my pet?
Because your pets have an endocannabinoid system just like we do, pets will respond to CBD and cannabis products similarly to humans. The endocannabinoid receptors that make up the ECS play a role in managing our pets' appetite, pain-sensation, mood, memory, and in regulating the effects of CBD. Responsible for the majority of the medicinal benefits that pets can experience, CBD, is non-intoxicating and won't get users high.
It's also worth noting that drug interactions can happen with CBD oil for dogs. Therefore, if your pet is taking other medications, talk to your vet about drug interactions before you start using CBD for your pet.
Any benefits of CBD for pets?
CBD has many medicinal benefits for cats and dogs. These include:
Seizure control
Appetite
Gastrointestinal disorders
Anxiety-related issues
Cancer
Arthritis
Pain
Their main compound include anti-inflammatory, antipsychotic, antioxidant, and anticonvulsant properties. These benefits can be profound in different scenarios, such as in treating arthritis for dogs, while other benefits will be more subtle. Proponents say that it can be used to address a variety of animal maladies, including anxiety and certain skin conditions.
But peer-reviewed research on CBD for dogs is still limited, and the few studies that have been completed had small sample sizes. And even though pet CBD is sold in stores and online, it has not yet been approved by the Food and Drug Administration, which means veterinarians aren't allowed to recommend CBD for your pets.
How do I know that CBD is helping my pet?
Our pets can tell us only through their body language. But as well as people think they know their pets, humans may overestimate the benefit that CBD has on their pet. For example, dogs instinctively try to hide their pain.
The good news is that there is a low chance that your pet will experience any side effects from CBD, and even if they do, it is extremely rare that they will be severe. The most common CBD side effects for pets is sedation or drowsiness. If your pet becomes too sleepy or sedated after their dose of CBD, you may simply need to reduce the dose for next time. Conversely, if your pet has trouble relaxing, then sedation may be helpful. Overall, negative CBD reactions are very rare in mammals. CBD is not processed the same way THC is, making it a much more accessible compound.
How do I give my pet CBD?
For pets, give CBD via sublingual tinctures. CBD oil and sublingual tinctures are the best because they are easy to dose, and they are easy to modulate, in case you need to increase or decrease the dose. All you have to do is drop the tincture into your pet's mouth. Many pets will surprisingly enjoy the flavor of the CBD oil and be tolerant of the administration of the CBD. For those that don't, it's easy enough to add some drops to their food.
And, how much CBD should I give my pet?
Less is more when it comes to CBD. Start low and go slow. You should start with a low dose and increase the dose slowly until you reach the desired effect. As with humans, different conditions may require different dosing. When dosing CBD for pets, the best method starts at a low dose. Observe what happens at that dose for a few days to a week before you increase the dose.
If you find that you should increase the dose, do so in slow increments and then observe the effects on your pet. Keep doing this until the necessary dose is reached for the condition being treated.
If you're going to give your dog CBD, make sure it's an animal product — CBD manufactured for people may have added ingredients that are unhealthy for dogs. Don't give dogs products containing THC, which can make them sick. Check to see whether the company provides testing results that prove the product has the potency and ingredients that are claimed on the label —some products aren't what they say they are.