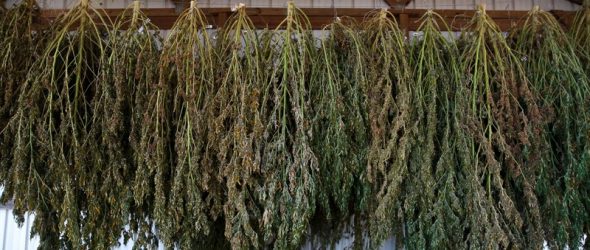 https://cannabisexaminers.com/wp-content/uploads/2020/03/newsEngin.25350485_101819-hemp-farm-006.jpg
A bill passed Thursday clearing up who is allowed to possess hemp may allow Georgia prosecutors to resume pursuing misdemeanor marijuana cases.
The state's hemp farming law, passed last year, caused an unintended quandary for Georgia prosecutors. Some, including Gwinnett County Solicitor Brian Whiteside, decided to stop prosecuting misdemeanor marijuana cases because the hemp plant and marijuana are virtually identical. 
PREVIOUSLY | Georgia bill advances to make arrests for hemp or marijuana
The key difference between the plants is the level of THC, the chemical that produces the high associated with marijuana. Law enforcement agencies didn't have technology to test THC levels and the Georgia Bureau of Investigation only accepts felony quantities for THC testing.  Legally grown hemp can have no more than 0.3% THC.
In theory, a defendant charged with misdemeanor marijuana possession could argue they simply had hemp. 
Because last year's bill to allow hemp farming didn't explicitly address the legality of hemp possession by everyday residents,  Whiteside and Gwinnett County District Attorney Danny Porter said it legalized hemp by default. Without the ability to prove what was hemp and what was marijuana, there wasn't enough evidence to make convictions, the prosecutors argued.
Gwinnett was the first county to halt misdemeanor marijuana prosecution, with counties including Cobb, DeKalb and Richmond following. Police departments in counties including Gwinnett, Cobb and DeKalb stopped making misdemeanor marijuana arrests because they would not be prosecuted. Some officers even gave suspects their marijuana back.
This interpretation was not universally adopted, and solicitors in counties including Hall and Cherokee reaffirmed their commitment to prosecuting misdemeanor marijuana cases.
House Bill 847 requires anyone found transporting hemp to have a license, which could clear up that legal gray area. Previous language that carried jail time or fines for possessing hemp illegally was removed from the bill before passage.
The bill, sponsored by Rep. John Corbett, R-Lake Park, also puts Georgia in compliance with federal hemp regulations and explicitly allows colleges to process and research hemp.
The bill passed 157-9 and must be approved by the Senate before reaching the governor's desk.
Support real journalism. Support local journalism. Subscribe to The Atlanta Journal-Constitution today.
See offers.
Your subscription to the Atlanta Journal-Constitution funds in-depth reporting and investigations that keep you informed. Thank you for supporting real journalism.