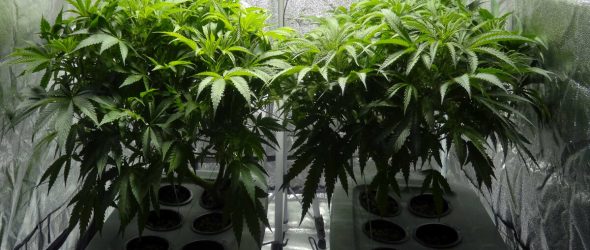 https://cannabisexaminers.com/wp-content/uploads/2020/02/Two_hydroponic_cannabis_plants.jpg
How to Grow Cannabis Indoors – Thanks to the widespread legalization of cannabis, more and more countries all over the world have been able to access the wide range of benefits that come with the so-called "miracle plant."
From stress relief to anxiety solutions, the results of legalization of cannabis has opened up a wide range of opportunities for consumers in need all over the world to access natural solutions without the risk of side effects and outrageous costs. While it may be easy to see how the legalization of cannabis around the world has benefited humanity in terms of usage, however, there's one aspect of legalization that enthusiasts should be well aware of: the opportunity to grow weed in their own home.
If you've been fortunate enough to end up settling down in a legal-to-grow state, then you're positioned to finally start your lifelong dream of growing your own bud and maintaining a free-flowing supply of cannabis.
Whether you're tired of having to walk over to the local dispensary or are simply curious about how much of a green thumb you truly are, Given the advancements in gardening technology and the widely available body of knowledge surrounding indoor weed growing, anybody in a "legal-to-grow" state can now take part in this enjoyable, in-depth experience with greater ease.
Therefore, should you find yourself considering the possibility of having and caring for your own weed garden, here's a step-by-step guide that you can use to get started:
Step #1: Before all else, establish your assigned growing space
Out of all the different factors that you'll need to handle throughout the course of your indoor cannabis growing experience, one of the most vital ones you should pay attention to is your growing space. Consequently, without a proper growing space, your cannabis seeds won't be able to sprout into beautiful examples of bud that easily make for otherworldly experiences.
Before settling on a particular growing space, though, conduct some research on which methods are most applicable for your home or dedicated area. It's important to know the difference between using a hydroponic or aquaponic system for growing your plants, for example, or the exact materials you need for traditional soil growing.
Step #2: Decide on the type of cannabis that you'd like to grow
Once you've decided where to begin your indoor growing efforts, the next step is choosing the type of cannabis you'd like to start your journey with.
Each type of cannabis—aside from its individual flavour and experience profiles—comes with its own level of difficulty and applicable growing environments for maximal yield. Given the thousands of options you can choose from, it's best to spend a bit of time online researching on the options that will fit your growing space and suit your preferences when smoking up. There are now hundreds of strains available that are generally regarded as easy to grow.
Step #3: Choose your home-sized pasture's lighting grow
Another important step that any budding bud farmer should never overlook is the lighting used for their canna-gardening set-up. Lighting is one of the key elements that makes a significant difference in the way a cannabis plant grows and flourishes throughout its lifespan—so, make sure you choose carefully.
There's a wide range of lighting options to choose from on the market, from £50 entry-level lights to £10,000 full-blown systems. However, you don't necessarily need the highest-end system to have the best bud. If you're a bit too eager to wait before you find the perfect solution, here are a few old-school grower-recommended lighting options:
Metal Halide (MH)
High-Pressure Sodium (HPS)
LED lights
Fluorescent lights
Step #4: Seeds or Clones— take your pick
As soon as the foundation of your small growing zone is well-curated and settled into place, the last step in putting an indoor cannabis growing set-up together is choosing between clones or cannabis seeds.
Although there may be many factors to consider when choosing between seeds or clones, it is more important to decide based on the availability of seeds or clones in your area. It may also be dependent on your chosen variety or strain and the availability of these. If you're looking to have a smoother start for growing cannabis within the comfort of your own home, however, then stick with clones for the first few months before trying with seeds.
Final words
Indoor cannabis growing, contrary to popular belief, is a fairly simple process that can easily turn into a lifelong passion or hobby if you take the right steps into consideration. By following these basic step in this guide, you can easily hop onto growing your own produce right away!
So, if you're looking for RQS, Indoor seeds, or CBD seeds in the UK, get in touch with Coffee Shop Seeds to see how we can help.