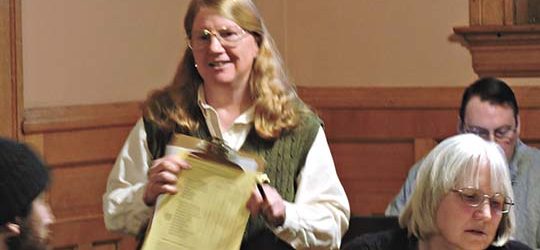 https://cannabisexaminers.com/wp-content/uploads/2020/02/2-21-Hearing-gj.jpg
CALUMET — The village council Tuesday assured an audience of approximately 40 that the marijuana ordinances will be back, and soon. They were temporarily repealed in order to update the Village Zoning Ordinance, said Trustee Roxanne King, and the council wants them back in time for businesses to be in operation by June 1, 2020.
Trustee Doug Harrer explained to the audience that when the zoning ordinance was written in 1997, it was was not written to permit marijuana facilities of any kind, because in 1997, marijuana was not legal in Michigan.
Trustee King, who is also a Planning Commission member, said she walked through the commercial district last week. She photographed storefronts and street scenes, and compiled a list of businesses that the current zoning ordinance does not list for permitted uses. These businesses are:
• Alcohol breweries and distilleries
• Coffee roasteries
• First-floor dwellings fronting the street*
• Pet care
• Single-family housing*
• Storage facilities
• Tattoo and body art shops
• Therapeutic massage shops
• Yoga and exercise shops
* Starred items are already explicitly prohibited in C1(General Commercial) and C2 (Downtown Commercial) zones.
The purpose of updating the zoning ordinance is not to limit or eliminate these businesses, but rather to expand the ordinance to permit them. In order to make changes to the zoning ordinance, however, a public hearing must first be scheduled, to determine what it is the residents do and do not want.
President Dave Geisler told the audience that to conduct the hearing, notice must be published in the local newspaper 15 days prior to the meeting, and that there will also be notice posted on the door to the Village Hall, and the village clerk will also post a notice of the meeting on the village website.
"So, watch the village website this month," Geisler said.
King told the audience that she wanted to address the growing facilities aspect of the ordinances, saying that currently there is a disagreement in the Planning Commission and a disagreement in the village council, on whether to allow commercial growing other than in the microbusiness category within the village.
King said she personally thought that because marijuana is a profitable crop, producers should be able to grow the 1-500 plants permitted under Class A, in their basements.
There is a disagreement on the council, she continued, regarding home growing for commercial use. She advised the audience to attend the upcoming public hearing for people to voice their opinions on why they either advocate for it, or do not want it. The Planning Commission and the village council are anxious to hear from the public.