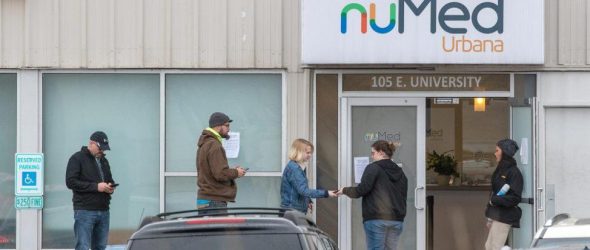 https://cannabisexaminers.com/wp-content/uploads/2020/04/5e7440fec702e.image.jpg
Q: How is the COVID-19 crisis impacting local cannabis sales?
A: At NuMed in Urbana, not much has changed, principal officer Keith McGinnis said.
"It hasn't spiked. It hasn't flattened," he said. "It's pretty much staying the same."
He said the stimulus checks haven't appeared to make a difference.
"People were saying that people may have gotten their stimulus checks and made a purchase, but it's really too early to tell," he said. "We haven't seen a big drop in numbers, and even prior to the stimulus checks, sales were staying pretty consistent."
Dispensaries — including those in Champaign and Urbana — were deemed an essential business under the stay-at-home order and have implemented social distancing practices.
"We put Plexiglass up," McGinnis said. "We never have more than five people in the store at the same time, and we're maintaining social distancing customers when they're wrapping around the building."
Like when recreational marijuana became legal Jan. 1, dispensaries are still having trouble keeping products in stock, but "to a lesser degree than it was before," McGinnis said. "We could always use more."