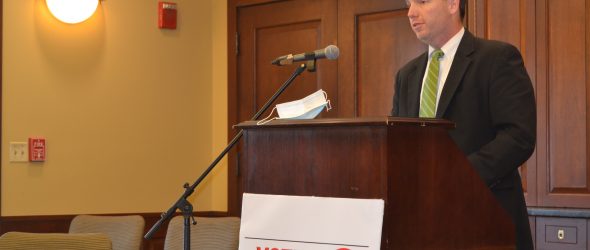 https://cannabisexaminers.com/wp-content/uploads/2020/07/DSC_0153-scaled.jpg
In November, Mississippi residents will have the opportunity to vote on Initiative 65, which would amend the Mississippi Constitution to allow qualified patients with debilitating medical conditions, as certified by Mississippi licensed physicians, to use medical marijuana.
In opposition to that measure, a small group of speakers met July 28 at the Ogletree House on the University of Southern Mississippi campus in an effort to get voters to consider shooting down the initiative.
Hattiesburg pediatrician Jonathan Shook said as a physician, he is always concerned about the health and well-being of children and adolescents, and over the years marijuana has proven to have many negative outcomes on things like brain development. He said the adolescent brain still grows at a rapid rate even into the mid-20s, and studies have shown that marijuana affects the pre-frontal cortex, which is involved in judgment and decision making.
However, there are a few conditions that have benefited from cannabis-related medicines, including seizure disorders, cancer and AIDS. As such, the Food and Drug Administration currently has approved four medications related to cannabis for those disorders.
"So we don't deny that there are some patients in certain situations that might benefit from some medicines," Shook said. "But we have a process in place; the FDA has already approved these medicines, and there are more studies ongoing.
"So the American Academy of Pediatrics does not recommend constitutional amendments or legislative processes that go around the FDA process that involves good studies to see what dosages work, what formulations work. We need that good information if we really want to help people that need help."
Ed Langton, CEO of Grand Bank and member of the Mississippi Board of Health, said Initiative 65 came about by millionaires forming a "cartel" to create a marijuana industry in Mississippi. Langton said those individuals have so far spent about $3 million to have the initiative put on the ballot.
"So when you hear the words 'compassionate care,' and how we need this to help people that have got medical problems, that is not really the reason behind this," he said. "So if you see who is behind all this, you'll see that it's not people just spending that kind of money to say 'I just want to make sure people can get good care.'
"This puts the health department in charge of growing it, processing it, and taxing it. The fees are equivalent to 7 percent, which just so happens to be the tax rate in the state. So when you pay the fees, that will all go to the health department, and no money will be shared with the general fund, no money will be rebated back to the state, municipalities and the communities."
Anthony T. McCullum, pastor of Piney Grove Baptist Church in Sheeplo, said he is against Initiative 65 because of the harm it can do to communities. McCullum said he has worked as a probation officer for the past seven years, and has 30 years experience serving at prisons throughout Mississippi.
"I've seen a lot of people coming through those facilities over the past 30 years, and I've lived a life where I've been around tons of people who have gotten involved in using marijuana," he said. "As we've talked about how it can be used for medical purposes, my concern is with the way this legislation is written.
"It is not written in the best interest of people in the community, and I think it can only do harm for everyone, especially those in my community and those who are out there who may just want to try something. I know that that there are many people who benefit from (THC) from a medical standpoint, but it needs to be done in the right way, and not some billionaire corporation of people coming in and legislating in a way where it will destroy families and communities."