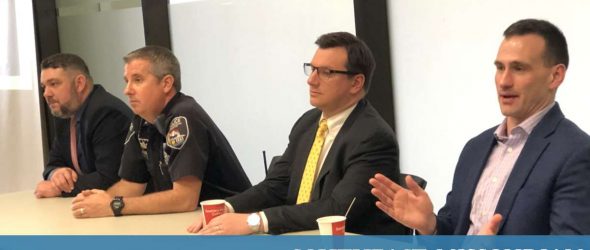 https://cannabisexaminers.com/wp-content/uploads/2020/02/3460137-G.jpg
Medical marijuana industry consultant John Payne, right, gestures as he answers a question during a medical cannabis forum Thursday on the Southeast Missouri State University campus. Also pictured are, from left, Cape Girardeau Councilman Ryan Essex, Cape Girardeau Police Lt. Brad Smith and Cape Girardeau County Prosecuting Attorney Mark Welker.
JAY WOLZ – jwolz@semissourian.com
Some of Missouri's medical marijuana dispensaries could be open by the middle of this year, according to a consultant who helped write the state's constitutional amendment legalizing medical cannabis.
John Payne, co-founder of Amendment 2 Consultants LLC, was in Cape Girardeau Thursday to speak at a public forum on the Southeast Missouri State University campus on what people need to know before medical-grade marijuana becomes available in the state.
"I don't think all facilities will be open by this summer, but I think there will certainly be some that are operating by then," Payne said and explained the process the Missouri Department of Health and Senior Services will follow to make sure all marijuana-related businesses — from cultivators and processors to testing facilities and dispensaries — are operating according to state regulations.
"The state requires every facility have a commencement inspection and before they do that the state has to review all their procedures and staff at each facility to make sure its in compliance," Payne explained.
Dispensaries — including as many as four in Cape Girardeau and one in Jackson — will not be able to sell medical marijuana products until marijuana plants can be grown in Missouri at licensed cultivation facilities, processed at manufacturing sites and tested at state-certified quality control labs.
"Once the first cultivation facilities are able to start growing, then we're probably looking at about eight weeks at a minimum (before dispensaries can begin selling products)," Payne said.
About 100 people — including college students, senior citizens, law enforcement representatives and other interested community members — listened as Payne outlined some of the key components of Missouri's strict medical marijuana regulations.
Sign up for Daily Headlines
Get each day's latest first thing in the morning.
For instance, he explained all marijuana plants grown in the state as part of Missouri's medical marijuana program will be tracked "from seed to sale." Cultivation facilities will be required to register all marijuana plants with the Missouri Department of Health and Senior Services (DHSS). The state, he said, will then "follow products all the way to the point of sale. Everything has to be accounted for."
Access to dispensaries will be restricted to persons holding patient identification cards and authorized caregivers as well as licensed dispensary employees and other authorized agents. Each customer's identification will be verified in a dispensary's anteroom before they'll be allowed to enter areas of the dispensaries where product is stored or displayed.
"State law prohibits advertising to youth or using marijuana leaves or imagery in any sort of signage or advertising," Payne said, "and all the windows at a dispensary have to be opaque so from the outside looking it will not even be clear there is medial marijuana being sold there."
As of last week, approximately 35,000 patient identification cards had been issued to Missourians with one or more medical conditions qualifying them to obtain and consume medical marijuana. Payne estimated between 150,000 and 180,000 cards will eventually be issued. "That will be around 2.5 to 3% of the state's population," he said.
In addition to Payne, others speaking at the forum, sponsored by EPIC (Early Prevention Impacts Community), included Cape Girardeau County Prosecuting Attorney Mark Welker, Cape Girardeau Police Department Lt. Brad Smith and Cape Girardeau Councilman Ryan Essex.
"We're just sitting back and seeing how things unfold," Smith said. "We're keeping in close conversation with our city and state prosecutors and the highway patrol" to determine how to apply local and state statutes to medical marijuana possession and use.
For instance, he said medical marijuana consumption could lead to additional citations for driving under the influence. "Driving under the influence is driving under the influence," Smith said. "You can be on cold medicine and it could be a driving under the influence case. It's the same thing with medical marijuana."
Smith and Welker pointed out possession of medical marijuana will be illegal without a patient identification card or caregiver authorization.
"If they don't have a marijuana card, we'll treat it like any other controlled substance," Welker said, adding he doesn't expect to see many additional marijuana cases stemming from medical marijuana.
"The majority of the controlled substances (cases) we deal with is meth," he said. "We don't see many marijuana cases at all."
Missouri is one of 33 states where medical marijuana possession and use has been approved, and in 11 states, including Illinois, legally-purchased marijuana can also be consumed for recreational purposes. However, the possession and consumption of marijuana — either for medicinal or recreational purposes — is still a violation of federal law.
"The intersection of federal and state laws is a challenge in pretty much every state," Payne said. "There's always a little bit of uncertainty and gray area there."
EPIC has scheduled a second public forum, in June, on medical marijuana, this one focusing on its impact on schools and businesses.
Do you crave business news? Check out B Magazine, and the B Magazine email newsletter. Check it out at semissourian.com/newsletters to find out more.