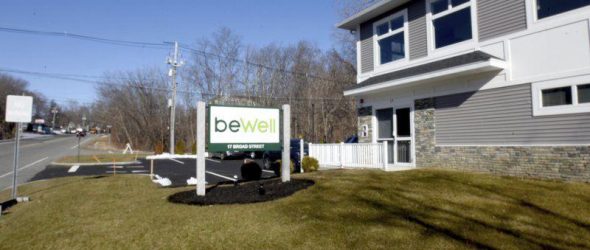 https://cannabisexaminers.com/wp-content/uploads/2020/02/5e50bfed7cd37.image.jpg
MERRIMAC — There's a new marijuana dispensary in town, but only for card-carrying medical cannabis patients.
On Feb. 12, beWell Organic Medicine opened its doors at 17 Broad St., becoming Merrimac's first operational medical cannabis dispensary. But unlike other cannabis retail openings, there were no long lines or overwhelming crowds.
As a medical marijuana facility, beWell is only open to registered Massachusetts medical marijuana patients, who must first book a 30-minute appointment on the company's website before their visit, with the option of pre-ordering products online. 
Inside the dispensary, patients can buy a variety of cannabis items, including various strains of dried flower, pre-rolled joints, concentrates, and vape cartridges. Additionally, the company carries edibles such as lozenges, chocolates, gummies and capsules, as well as transdermal patches, which are placed on the skin and release a steady amount of THC into the bloodstream over several hours.
Chuck Saba, beWell's CEO, has also made an effort to create a comfortable dispensary environment, favoring tables, chairs, and televisions over single-file line waiting areas that he has found common in other marijuana establishments.
"I just don't get a warm and fuzzy feeling in a lot of the places I've been into. You're standing in a line, you're handed a paper menu and a lot of the items are usually out of stock," said Saba.  "We want a more inviting atmosphere. We don't want people to come in and feel like they've done something wrong."
The beWell building also has a second floor, where Saba said he plans to host classes and events for patients.
Saba also expressed his frustration with cannabis shops where customers sometimes visit only to find that the product they came for is out of stock. As a solution, Saba said beWell's inventory is live-timed online and in the dispensary so that when items are in low enough supply, they're quickly taken off the menu.
Because of the appointment-only schedule that only allows five patients inside at once, Saba said the dispensary's first couple of weeks have been smooth and without stampedes of eager customers. In the future though, he said the policy could change.
"We knew there wasn't going to be any kind of a nightmare because it is medical, but we talked to the police and agreed to do it appointment-only for the first month, at least," said Saba. 
And while the new dispensary is tucked in a Merrimac corner, beWell's reach in Massachusetts' marijuana industry extends much further. The company operates a cannabis cultivation site in Lowell, which by the end of the year will have a total area of 40,000 square feet, making it one of the largest in the state, Saba said.
"From our perspective, we still have a monster market," said Saba, explaining that the company is able to sell its cultivated cannabis to both medical and adult-use retail businesses.
"Eventually, within the next two years, we'll have 100,000 square feet built out in Lowell, so we'll be at the top of what you're allowed to do with one facility," he said.
As Saba explained, there are some benefits to owning a medical cannabis facility over an adult-use shop. For one, he said that because of the flexibility of medical marijuana laws, beWell is allowed to hold sales and give patients discounts and coupons, unlike adult-use stores where prices must stay firmly in place.
In addition, while adult-use customers need to be 21 years old to enter, medical dispensaries allow anyone 18 or older inside as long as they have a medical marijuana card; additionally, those under 18 can come in with a caregiver.
But the biggest advantages, Saba said, are the increased strength of some medical products, which often come with a much higher level of THC, the chemical in cannabis that produces a high — as well as the lack of tax on medical marijuana sales.
"You might be able to get a recreational 100-milligram candy bar, but here you could get one with 300 milligrams of THC because there are medical reasons people are coming in here for it — you get more for your dollar," said Saba, also noting that veterans get 20% off purchases. "We have the same products with potentially higher dosages for patients."
For now, he said he looks forward to having beWell as one of the area's few medical cannabis dispensaries. In the future, though, he said he would be happy to sell adult-use products as well, if Merrimac officials will allow it.
"Looking at the future, we are going to be selling to adult use, and potentially open an adult-use facility — and should the town of Merrimac decide they want to get the taxes, then we will do both adult-use and medical," he said.
For more information on beWell Organic Medicine, go to www.bewell420.com.
Staff writer Jack Shea covers Newbury­port City Hall. He can be reached via email at jshea@newburyportnews.com or by phone at 978-961-3154. Follow him on Twitter @iamjackshea.