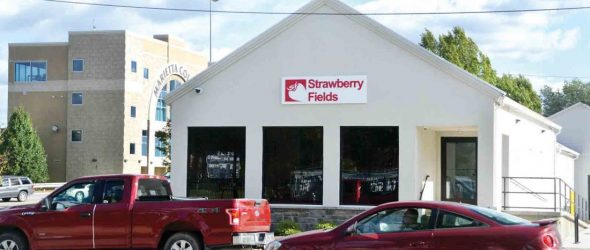 https://cannabisexaminers.com/wp-content/uploads/2019/10/10-20-19-Strawberry-Fields-1100x734.jpg
MARIETTA — Marietta's first medical marijuana dispensary will hold its grand opening on Oct. 29.
Strawberry Fields, one of four outlets in Ohio operating under that name, is on Greene Street by the Williamstown Bridge.
Three years after then-Gov. John Kasich signed a bill legalizing the cultivation, sale and use of marijuana for medical use, the system in Ohio is becoming robust enough to provide the drug to patients in most parts of the state.
Washington County has had a clinic for a year with a doctor willing to provide certificates of recommendation, but residents had no local dispensary to provide the drug.
Strawberry Fields has gone through vetting by the city to address traffic concerns and weathered the objections that it is located too close to Marietta College.
On Oct. 10 it was awarded a license by state regulators, and now manager Keri Stan and staff are preparing for business. The shop's hours are to be 10-6 p.m. Monday-Friday and 9-4 p.m. Saturday.
"We're trying to get everything in, and we will be fully stocked by opening day," she said. "We will have a representative assortment of products for the Ohio market. That side of the industry is not fully stood up, but we will have a broad assortment."
The production, sale and medical practice associated with getting marijuana to patients has created in effect a shadow health care industry because marijuana, although legal for medical or recreational use in all but nine states, remains a Class I narcotic under federal law. Established health care organizations, including the Memorial Health System in Marietta, consider themselves proscribed from issuing recommendation for medical pot, and federally licensed pharmacies cannot dispense it without violating their licensing terms.
Ohio established created an entire set of regulators to administer the program, with rules governing cultivation, processing, testing, enforcement and standards for patients who qualify. Physicians require special certification from the state medical board.
The Compassionate Care Clinic in Devola, run by Dr. David Spears, is the only medical establishment in the county that can issue recommendations for medical marijuana, but until now the recommendations could not be presented to a local dispensary.
The physician approval for marijuana use is termed a recommendation to prevent confusion with the term prescription, which applies to federally approved drugs.
Strawberry Fields, a trademark name for license applicant Cannascend Alternative LLC, will open dispensaries by the end of this month in Marietta, Dayton, Logan and Monroe.
Stan said she couldn't say how many people will be working at the Marietta dispensary.
"Employment will vary, we're going to be flexible based on the needs, to be sure that we can see all our patients efficiently," she said. "We need a better idea of the expectations and number of patients."
Under the Ohio law, physicians can recommend marijuana as a treatment for 23 conditions ranging from chronic, intractable pain to multiple sclerosis.
As of the end of September, according to a database published by the Ohio Board of Pharmacy, the state program had 63,819 patients who had received 62,246 recommendations.
With the approval of the four Strawberry Fields dispensary licenses, the state now has a total of 40 such operations. For the first quarter of 2019, sales totals for the dispensaries came to $2,884,096, according to the most recent board of pharmacy data available.
Marijuana can be dispensed in several forms, including oils, tinctures, capsules, metered oil for vaporization, patches, lotions, creams, ointments and plant material. It is not legal to burn marijuana for smoking, but the plant material can be heated to the point at which it exudes vapor.